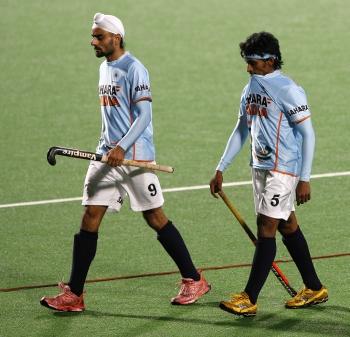 India coach Jose Brasa on Thursday admitted that team's semi-finals hopes are over in the hockey World Cup and blamed lack of exposure for his side's dismal show in the prestigious event.
India suffered a 2-5 defeat at the hands of Spain and had lost by the same margin to Australian on Tuesday.
Brasa said his players committed some "childish" mistake due to the lack of international matches and set the target of finishing fifth.
"We are virtually out of the semi-final. Theoretically, we can reach there if we win our remaining two matches but that is after a lot of permutations and combination. The semi-final dream is almost over. We will think of finishing fifth," Brasa said after his side's third Pool B match.
"You can't expect miracles in six months. Half of the team is playing their first major tournament. Spain are of our level but our players committed childish mistakes, especially the second Spanish goal 10 seconds before the first half.
"We left Pol Amat (Spanish captain) unmarked near our goalpost. Amat is Spain's best player and one of the best in the world. You can't give space to him like that.
"The second goal made all the difference. We also could not control the Spanish sweeper. All these mistakes are due to lack of experience. We also did not have enough international matches before the World Cup.
"Spain came here after playing 10 international matches in the build-up to the tournament while we played just two practice matches just before the event," Brasa explained.
Brasa, however, stoically refused to blame any player for the loss and refused to do any post-mortem of the debacle.
"We are an improving team. We were ranked 12th before this World Cup and if we finish fifth it will be an improvement. I will not blame any player. We will analyse what went wrong for us. We will do it after the tournament and not now," he said.
Brasa, who had also coached Spanish national team in the past, defended his players saying that they played much better than what the scoreline showed.
"We had almost the same number of chances and control of the game as Spain. We had more or less the same number of penalty corners though we could convert just one (out of six)," he said.
Brasa also revealed that India made complaints of some umpiring errors in their 2-5 loss against Australia and the tournament director had accepted them.
"We made complaints and the tournament director told in the morning that the penalty corner from which Australia scored their second goal was wrong and India should have got a penalty stroke instead of penalty corner from a Gurvinder Singh Chandi attempt," he said.
The Spaniard also defended drag flicker Sandeep Singh who could score just one of the six penalty corners.
"Today we had decided to depend on Sandeep for penalty corners. Sandeep had scored goals against the same goalkeeper when we toured Spain. But today he could not score many but that happens in hockey," he said.
Brasa said he was hopeful of India reaching the level of the top teams this year.
"We are very disappointed for the hockey fans in the country. But we have two very important tournaments this year (Asian Games and Commonwealth Games). By that time I hope India will be able to match the top teams," he said.
Asked whether India can beat England on Saturday, he said, "England and Spain are of India's level. So we have a chance to beat England."
He also said that his side felt the absence of Shivendra Singh in the last two matches. Forward Prabhjot Singh said man-marking and penalty corner conversion have been the concern for the home team.
"We have to work on man to man marking and penalty corner conversions," he said