- 12th Men's Hockey World Cup coverage
The ban on him has been reduced by a match, but Indian forward Shivendra Singh on Tuesday said even the lighter penalty amounts to "injustice", as he has been punished for no fault of his.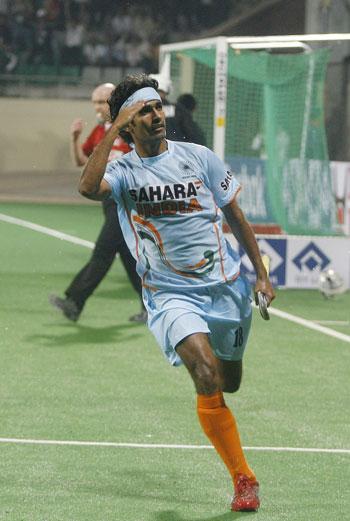 During India's World Cup opener against Pakistan on Sunday, Shivendra's stick hit rival player Fareed Ahmed, who suffered a cut on his eye as a result.
Tournament Director Ken Read, while handing out the initial three-match suspension to Shivendra, said the act was "deliberate".
The Indian player, who after the reduced ban will sit out of the matches against Australia and Spain, however, insisted that he had no intention to hurt the Pakistani player and it was just an accident.
"I am very disappointed with the decision. The penalty is injustice to me because I never committed the fault intentionally. I was running for the ball and while I was in motion the stick suddenly hit the Pakistani player. But it was never deliberate," Shivendra said.
The seasoned forward, who had scored a goal in India's 4-1 win in the tournament opener, said the slight relief hardly matters to him as he would be sitting out of two crucial matches.
"It does not matter to me because at the end of the day I will be missing the crucial match against Australia. It hardly matters," he said.
Shivendra said the episode has only made him more determined to make a strong comeback.
"Now I am even more determined to perform better when I return to the field after suspension," he said.
India coach Jose Brasa was also livid with the harsh penalty imposed on his ward.
"The three-match suspension penalty was very harsh and in that sense wrong. I don't say he (tournament director) does not have the power under FIH rules. He has the authority but the decision was wrong. It was an enormous penalty for an unintentional foul," Brasa had said on Monday.
© Copyright 2020 PTI. All rights reserved. Republication or redistribution of PTI content, including by framing or similar means, is expressly prohibited without the prior written consent.