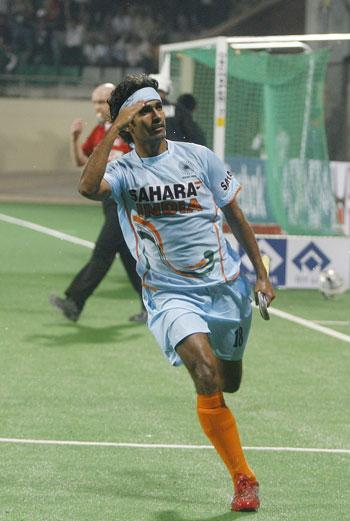 In-form Indian striker Shivendra Singh has been suspended from India's next three World Cup matches for hitting a Pakistani player and a jury would decide his fate by Tuesday after his team appealed against the suspension.
Tournament Director Ken Read told reporters that Shivendra "deliberately" hit Fareed Ahmed by lifting his stick in the 39th minute of the match, which the hosts won 4-1 on Sunday, leaving the Pakistani player with a small cut above the eye.
The Pakistan team management did not make any complaint but Read found Shivendra breaching FIH Code of Conduct and guilty of level 2 offence -- physical assault without serious injury.
"The action of lifting the stick was deliberate. A four-match suspension is appropriate but given the (good) history of Shivendra, I consider three-match suspension appropriate," Read said.
Accordingly, Shivendra will miss -- unless the appeal against his suspension is upheld -- India's matches against Australia, Spain (Thursday) and against England (Saturday).
The Indian team management, however, is hoping for a reprieve.
"We got the intimation this morning and within the stipulated time, filed an appeal, depositing the appeal fees of Euro 600," Hockey India secretary Narinder Batra informed.
Read said a jury of appeal was being constituted and a decision would come before India's match against Australia.
"A decision on the appeal should come out two hours before India's next match. As far as I know a jury of appeal is being constituted and decision could come even tonight," the Australian added.
Earlier at the hearing, Shivendra was shown the video footage of the incident and he agreed that when the stick was lifted, the ball was ahead of him on the ground and away from the two players.
Shivendra argued that he had no intention to hit the Pakistani player after the jabbing and just wanted to run faster and for that to hold his stick with both hands.
Read rejected the argument and held that there was no need for the stick to be lifted.
"I find that the stick was deliberately raised and that the behaviour of Shivendra was reckless as to the safety of Fareed," Read said.
Incidentally, Read also suspended Pakistan midfielder Irfan Muhammad from tomorrow's match against Spain for wearing a long gauntlet-type glove and a knee pad, which were deemed illegal, in the match against India.
Pakistan team manager Asif Bajwa was also severely reprimanded for the breach of conduct.