France native Claude Arpi, who has lived in India for 36 years, captures the fan's passion for football in an ongoing e-mail exchange with Ivan Crasto, Rediff.com's Sports Editor.
Read Claude's first e-mail here
You can find his second e-mail here
And his third here
And his fourth here
Dear Ivan,
I hope you had a good weekend. Quite an eventful weekend, eh?
Nine matches and several surprises.
I have to write again about the Frenchies though I earlier thought I would keep quiet. They have done it again!
After Nicolas Anelka's expulsion from the World Cup by the French Football Federation, there was a sort of Bastille Day yesterday.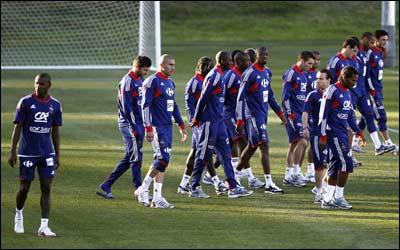 The French players revolted against coach Domenech and the FFF. They refused to practice and to add insult to injury, they forced poor Domenech to read their communique, objecting to Anelka's expulsion.
The situation was so dramatic that the FFF representative (the de facto boss of Les Bleus in South Africa) resigned 'live' in front of the media.
The players then departed for their resort in their bus and left Domenech behind. He eventually found a lift.
Critics say that in any case, Revolution is a French sport.
Great atmosphere for the 'final' match against South Africa on Tuesday!
The utterings of England's Rooney seem awfully boring compared to the Great French tamasha. More seriously, what is wrong with the European nations? Are they depressed with the fall of their currency?
After Spain was defeated by the Swiss (who are not part of the Euro Zone), it was the turn of the Germans to be stunned by Serbia; then England was booed by its supporters when they were unable to get the better of a rather weak Algeria; and finally the World Champions themselves were unable to humble the Kiwis, till now not really known for their football skills.
The Italians were lucky to have a 'generous' referee who offered them a penalty for a 'shirt pulling' on De Rossi in front of the goal. We have seen worse 'pulling' in other matches.
Of course, some other European teams like Denmark and The Netherlands are doing well. By the way, I liked the spirit of the Japanese (even if they have the saddest faced coach; the guy never smiles).
I have a theory for the poor performance of the Euro teams: The top European Leagues are too tough and many of the stars are just tired. But a friend remarked that most of the 'smaller' teams (as well as the Africans) also play in Europe.
Are we going to see a South American wave in coming weeks? Possibly.
Brazil seems to have found again its legendary efficiency and Uruguay was good during the weekend. Kaka's expulsion was utterly unjust. But what to do? C'est aussi le sport! (That is also sport!)
Tomorrow, I want to speak to you about the balls; there is something strange about them.
With Brazilian vuvuzelas
Claude
Image: French players leave the field after refusing to take part in a training session in Knysna. Photograph: Charles Platiau/Reuters