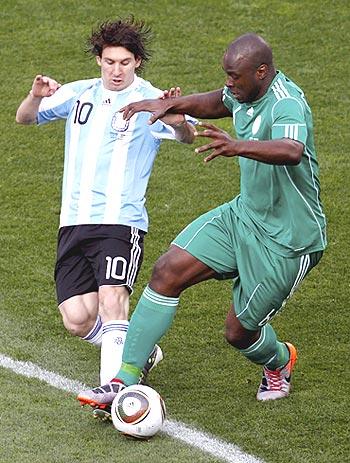 World player of the year Lionel Messi lived up to his billing with a wonderful performance in Argentina's 1-0 win over Nigeria to confirm the South Americans' status as one of the World Cup favourites.
Though he did not score, Messi peppered the goal with shots, drawing a string of fingertip saves, and tormented the Africans' defence with ceaseless dribbling and incisive passes.
The diminutive 22-year-old striker, nicknamed "The Flea," put in a performance to confound critics who said maverick manager Diego Maradona could not bring out the best in him.
Though Messi and Maradona -- and their sensitive relationship -- have galvanised media attention, it was defender Gabriel Heinze who headed home an early corner for the goal that beat one of Africa's perennial heavyweights in the Group B game.
Agitated and shouting on the touchline throughout at Johannesburg's Ellis Park, the bearded and besuited Maradona hugged and lifted Messi off the ground in jubilation at the end of arguably the highest quality match so far of World Cup 2010.
Earlier, South Korea, who were unbeaten in qualifying, took that confidence straight into the Group B opener at Port Elizabeth. They played a slick and fast passing game to beat the Greeks 2-0 through goals from Lee Jung-soo and Park Ji-sung.