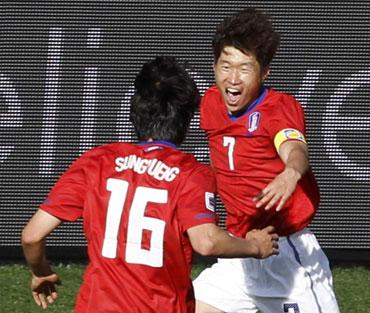 Park Ji-sung played an inspiring hand to help South Korea beat Greece 2-0 in their opening Group B tie in Johannesburg on Saturday. The 29-year-old captain scored the second goal to help swell Korea's lead and become the first team to register a win this World Cup.
Park was uncharacteristically quiet in the first half but he burst into life in the second half.
In a 52nd minute solo effort, Park took possession at the back, dribbled past two defenders into the box and slotted home to double the lead.
Korea got the first goal in the seventh minute when Lee Young-pyo's corner drifted past four defenders into the path of Lee Jung-soo, who steered the ball into the net to spark frenzied celebrations from thousands of travelling Korean fans.
Greece battled to get back into the game but were caught off guard as the three-times Asian champions piled on the pressure and had two penalty appeals turned down.
The Manchester United winger dubbed his goal as an honour. "Personally, I was very honoured to score, but ultimately, it comes down to the team winning, and I am very happy that I managed to contribute to the team's victory."