Former India goalkeeper Mir Ranjan Negi has thrown his hat in the ring to become the new coach of the national women's hockey team after incumbent MK Kaushik resigned on Wednesday in the wake of a sex scandal.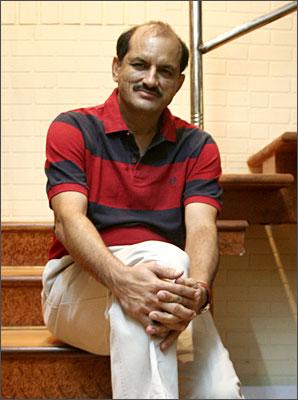 According to Hockey India (HI) secretary general Narinder Batra, Negi has approached the federation expressing his willingness to take up the job.
However, Batra said the federation has not yet made up its mind on Negi as ultimately it is the Sports Authority of India's prerogative to name the national team coaches.
"He (Negi) approached us showing his interest in the job. We asked him to send his bio-data which will be put forward before a panel, which is the normal procedure," Batra said.
"We don't have the right to appoint a coach. We only can make recommendations to SAI who is authorised to appoint the coach of any national team," he said.
Contrary to some reports, the HI secretary made it clear that the federation was not the first party to show its interest in Negi for the job.
"We (HI) did not contact him. It is Negi who approached us. Nothing is finalised as yet, we just asked him to send his bio-data," Batra said.
When contacted, Negi confirmed that he had sent his bio-data to HI as he was keen to take up the assignment.
"Yes, I have. When I heard that they (HI) were looking for a coach, I contacted them and they asked me to send my consent and I have already sent my application to HI," he said.
"In such circumstances every coach will be apprehensive about this job. It's a challenging one but I have worked with the women's team before," Negi added.
Negi, who was later involved in the making of 2007 hit film Chak De India, came in the running for the women's team coach's job following the resignation of Kaushik on Wednesday, against whom a fringe player Ranjita Devi has complained of sexual harassment.
The former hockey custodian, however, expressed shock over the allegations levelled against Kaushik, with whom he not only played but also assisted the women's team.
"It's a very, very sensitive matter. It's shocking, I don't have words to express," Negi said.
"So far no player has come forward and spoken. I played with him (Kaushik) for a very long time and was also a member of the coaching staff along with him but I never saw these sort of incidents," he said.
Negi's international career was a roller-coaster ride, which came to an abrupt end after he was accused of a accepting bribe to concede goals during India's 1-7 loss to Pakistan in the 1982 Asian Games.
He, however, returned as a temporary goalkeeping coach for the 1998 Asian Games in which India won the gold.
Negi also has a good track record with the women's team as he was the goalkeeping coach of the side that won the gold at the 2002 Commonwealth Games and later was the assistant coach of the 2004 Asia Cup-winning side.