Indian Olympic Association president Suresh Kalmadi on Thursday chose not to speak on the sex scandal that rocked the Indian women's hockey on Tuesday.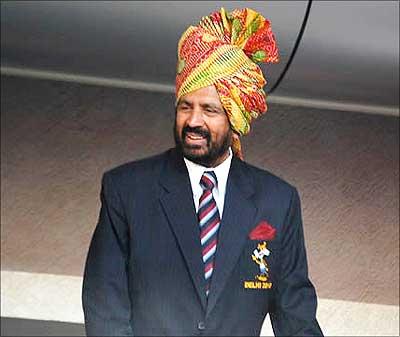 "A four-member panel has been formed by Hockey India to look into the allegations. They will take the action. Wait and watch. I don't want to say anything further on the matter," Kalmadi said on the sidelines of a book release function in New Delhi.
Indian Hockey plunged into a moral crisis after fringe player Ranjita Devi sent a written complaint to the federation, alleging sexual harassment by coach M K Kaushik, who has resigned from the post.
Hockey India sacked videographer Basavraj, against whom they got an anonymous mail showing photographs of him with a prostitute during March-April China Tour.
The four-member committee looking into the allegations comprises Rajiv Mehta (chairman), former players Zafar Iqbal and Ajit Pal Singh and Sudarshan Pathak.
Meanwhile, Kalmadi asserted there was no delay in the completion of the Commonwealth Games venues.
"Infrastructure is ready. Stadiums are ready for the Games. Everything is going as per schedule," he said.
On who should be the brand ambassador for the October 3-14 sporting event, Kalmadi said the Organising Committee will shortly announce the name.
"I'll again say, he or she will be a sportsperson. We will announce it shortly."