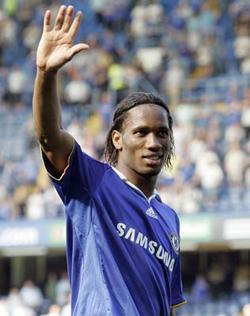 Chelsea's ace striker Didier Drogba's agent has revealed that he is in talks with Manchester City over a 20 million pound move.
Thierno Seydi admitted that he had spoken directly to City about the 32-year-old Chelsea striker.
"Today he's at Chelsea. Maybe there will be surprises before August 31. I haven't spoken to just anybody. The only contact I've had directly was with City," The Sun quoted Seydi, as saying.
Seydi told Radio Monte Carlo: "At his age I can no longer hide the financial aspect. The club that wants Didier will have to meet the price."
City plans to give Drogba a three-year deal worth 18 million pounds plus where as Chelsea is eyeing Liverpool's Fernando Torres and will not give up on him if Drogba leaves.