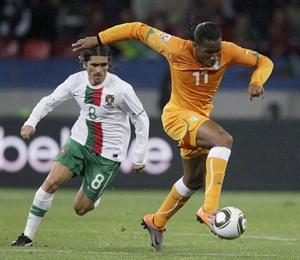 Throughout the World Cup, Rediff.com will bring you superb features that capture the heat and dust of the Great Game.
In this series, France native Claude Arpi, who has lived in India for 36 years, captures the fan's passion for football in an ongoing e-mail exchange with Ivan Crasto, Rediff.com's Sports Editor.
Read Claude's first e-mail here.
Dear Ivan,
I liked the Portugal-Cote d'Ivoire match. Good football. The return of Didier Drogba with his plaster was certainly a great psychological boost for his team. To play at this level with a plaster is quite remarkable, don't you think? Many marabous and well-wishers must have prayed for his quick recovery.
Cote d'Ivoire-Brazil is going to be terribly exciting.
I have been very disappointed by New Zealand. Not because of their very commendable performance opposite the dynamic Slovenian team. To draw in the last minute of extra-time was unexpected, but because they did not perform the Haka, the traditional Maori war dance.
Also, I was looking for an All Blacks team, the traditional colour of the famous rugby players of the Pacific Island and found that the footballers were All Whites instead. But I really missed the Haka. I think it would have shaken the Slovakians and amused the public even though the players were rather puny compared to their hefty rugby men colleagues.
Did you hear the latest about pretty French Minister of State for Sports Rama Yana (no, she is not Indian, despite her name)? She had complained that the French team was staying in a too luxurious resort (about Euros 589 per night) while France faced a critical economic crisis.
Now, Le Canard enchaine, the famous French satirical weekly, has found out that during her last week visit to South Arica, Rama had booked a room in a five-star hotel for Euros 667 plus 5 rooms for her staff at Euros 340 each.
Realising that she would make a fool of herself, her office cancelled the reservations and she stayed with the French consul. Unfortunately, the reservations were not refundable. French tax-payers will have to pay.
A politician is a politician, but some are prettier than others (No, I will not give you any Indian names). The French will surely forgive Rama.
With vuvujelas
Claude
Photograph: Reuters