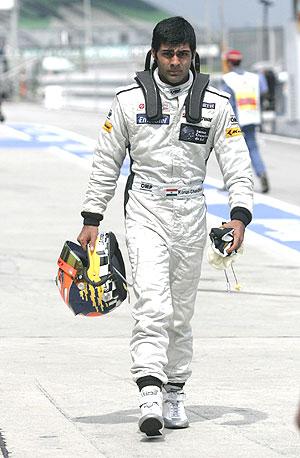 India's Karun Chandhok was confident his Formula One career remained on track on Friday despite being dropped by his Hispania (HRT) team for next week's German Grand Prix.
The F1 newcomers said in a race preview that Japanese test driver Sakon Yamamoto would retain his place on the starting grid for the second grand prix in a row, partnering Brazilian Bruno Senna.
Senna, nephew of the late triple champion Ayrton, had to sit out last weekend's British Grand Prix at Silverstone while Yamamoto raced with Chandhok.
"You want to drive every weekend so it's not ideal," Chandhok, who will still travel to Hockenheim as planned.
"But it's hardly the end of the world.  At the end of the day, they gave me the chance to be in Formula One," he added.
The Indian, sole representative on the starting grid of the world's second most populous nation and hoping to be the first Indian to race at home when the country hosts a grand prix next year, was confident he would be back in the car before long.
"By no means does this mean that I'm not back in the car in Budapest (the race after Germany)," he said.
"We will sit down in Hockenheim and the team will decide on a race by race basis," he added.
FOUR DRIVERS
Spanish-based Hispania have four drivers on their books, with experienced Austrian Christian Klien their second test driver, and Chandhok said the team would pick and choose who raced in the second half of the season.
"There's no reason to believe that I will be out for too long," said the 26-year-old who competed in the first 10 races and is currently the second highest ranked of the drivers from the new teams with a best finish of 14th place.
"I'm not too worried," he added.
Under the 2010 Formula One sporting regulations, teams are allowed to use four drivers in a season with all eligible to score points.
Just getting both Cosworth-powered cars to the finish has been an achievement for Hispania, who have yet to come close to scoring.
The team said in a statement that Yamamoto, who is believed to bring substantial funding to a team that almost went under before the season had even started, had been kept on due to his "very positive performance" at Silverstone.
The Japanese finished 20th and last in that race, with Chandhok 19th.
"Karun Chandhok is still part of the Hispania Racing, HRT F1 Team family and is likely to be in the car at some later races this season," the team added.