He hasn't played in the Davis Cup for over a year and the end seems nowhere near.
But Prakash Amritraj insists he is still trying.
The Union Government's (rather the Sports Ministry) policy, in December 2008, that only Indian citizens would be allowed to represent the country in international competition meant Prakash, who lives in the US and holds an American passport, was debarred from playing the Davis Cup thereafter.
Having last played against Romania in September that year, Prakash was a mere spectator as the Indian team ensured a  place in the elite World Group last year, after an 11-year absence.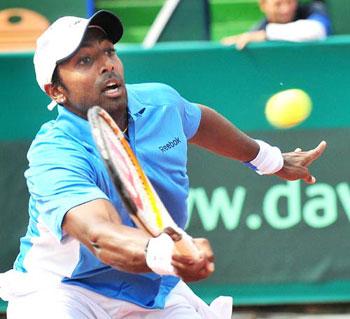 The team's wait to play at the highest level might have ended but Prakash is still waiting. And the wait is getting longer mainly because of his hesitance to surrender his US passport.
The tennis player though is quick to justify his stand on the issue and makes an instant clarification about his reluctance to give up his American citizenship.
"I live in the States and that is the best thing for me," says Prakash, adding, "I do my training in a planned manner and if I don't have a US passport I won't be able to do that."
It is a decent explanation but one that is not convincing enough.
Considering this is major year with India playing in the Davis Cup World Group and big sporting events like the Asian Games and the Commonwealth Games also scheduled for the year, has Prakash ever contemplated surrending his US passport and securing an Indian one?
"I have to look into that," admits Prakash. "I am trying to see if I can have an Indian passport and continue my normal training in the United States as well."
At a time when father Vijay Amritraj is struggling to get himself out of a controversial situation - after accusations that he has been paid a hefty amount for the event but has no specific role to play this year - by playing up the 'patriotism' card, the above comments by Prakash might just seem more damaging to his father's reputation than being damage control measures.
But the 26-year-old is quick to do the latter.
"First and foremost, I have to train to the best possible level," he explains. "Because if I do get to represent India in the future but drop my levels, it won't serve any purpose."
There has been speculations that father Vijay wasn't happy at him not being given a wild card for the main draw at the Chennai Open - which he had got regularly since 2002 - and having been asked to qualify.
Asked the same, Prakash seems to reiterate his father's answer (rather refutal)  with a 'professional' twist.
"Whether I would have qualified or got a wild card, it was a first round loss," he explains, hinting at his early exit last year. "And it is not where I want to be.
"In that aspect it is good that I had to qualify for the main draw this year," reasons Prakash.
His performances in Chennai or for that matter other ATP events notwithstanding, Prakash will always have more questions regarding his return to playing for the country again vis-à-vis his other professional commitments.
And till that issue is resolved, Prakash can be seen reiterating a patriotic, albeit a tad melodramatic, explanation.
"Whether the country allows me to play or not, I will always be an Indian," concludes Amritraj, palpably with a smile on his face.