One thing is beyond doubt after eight fabulous days of action at the ATP World Tour Finals -- tennis has found a spectacular new venue at London's space-age O2 Arena.
Almost all of the 17,500 tickets were snapped up for every session and fans were richly entertained with all but five of the 15 singles matches going to three sets.
The lighting was excellent, the background music added to the entertainment and the tennis served up by eight of the world's top nine players was of the highest quality, even at the end of a long, gruelling season.
All in all it was a highly satisfying first year of five for the O2 as the tournament venue, capped by worthy champion Nikolay Davydenko's title triumph.
"I've had quite a few players say it's the best-staged tennis event they've ever seen," said managing director Chris Kermode.
"I think everyone's blown away by the O2 and I think just the presentation of the event and the fact that, even in doubles, it's been played in front of 17,500 people."
As the tennis court is removed and the stage reverts to hosting some of the world's top musicians, men's tennis begins the short countdown to next season.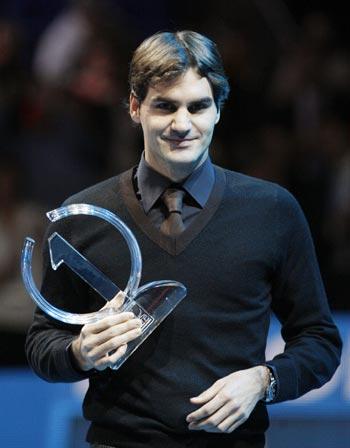 Despite a first defeat in 13 meetings with Davydenko in the semis, there is little doubt Swiss maestro Roger Federer has re-established himself in the lead role.
He will head for the Australian Open in January as the world number one and favourite to add a 16th grand slam to his collection.
Twelve months ago Federer's dominance seemed over as Rafael Nadal ended the year as world number one and when the Spaniard left him crushed and tearful a month or so later after an epic Australian Open final many questioned his ability to recover.
They need not have worried. A maiden French Open title and his sixth Wimbledon crown made it a golden year for Federer even if a shock defeat in the U.S. Open final by rising force Juan Martin del Potro left a slight blemish.
MAIN RIVAL
Quite who will be Federer's main rival next year is less certain.
The question marks hanging over Nadal after a year dogged by injury and poor form will still be there when next season swings into action, whatever he achieves in the Davis Cup final this weekend against Czech Republic.
Nadal lost all three of his matches at the O2 without managing to win a set.
He said after losing to Novak Djokovic on Friday he needed new batteries but he also needs an injection of confidence because the Mallorcan looks vulnerable against the big guns, borne out by the fact he has beaten just one top-10 player since May.
"I need to get back to the feeling that when you are playing a point you're not going to make a mistake. That's the first thing. That's going to be very difficult," Nadal said.
Serb Djokovic, who finished the season strongly, will be confident of overhauling Nadal as world number two early in the new year.
Just behind him Britain's Andy Murray and Argentine Del Potro, beaten by Davydenko in Sunday's final, look well matched. Murray will be keen to fill the gap on his CV by claiming his maiden grand slam title.
Then there is world number six Davydenko.
The balding Russian does not have the box-office appeal of the players above him in the rankings but at 28, the same age as Federer, he is playing the best tennis of his career and believes he can beat anybody.
It has taken a long time for the tennis world to warm to Davydenko, but at just 68 kilos he represents the ordinary little guy in the street, battling with the giants.
"It doesn't matter how tall you are or how big or strong," said Davydenko after walking off with a $1.5 million cheque. "You can play different tennis, make good returns, run and volley."
The players may need a rest but for tennis fans next year cannot come soon enough.