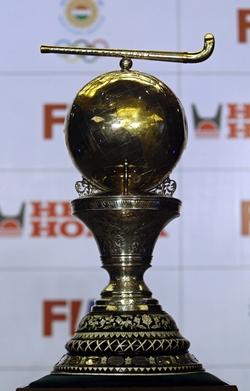 The Olympics was the only major hockey tournament, which featured teams from all over the world, till Pakistan and India made a joint proposal for another event at the Council meeting of the International Hockey Federation (FIH) in Paris on March 30, 1969.
In fact, it can be said that the hockey World Cup was instituted because of the efforts of Pakistan's Air Marshall Noor Khan and India's Jimmy Nagarwalla. The former conceptualised it, while the latter, along with Pakistan's A I S Dara, put forward the proposal to the International Hockey Federation (FIH).
A commission of eight persons was appointed to study the feasibility of a second major international hockey event. After much thought, the FIH at its Brussels conclave on October 26, 1969, recommended a biennial tournament, which would be called the hockey World Cup.
The proposal was unanimously accepted, and the commission asked to draft the required regulations and qualification criteria. The commission's proposals were adopted by the Council at a meeting in Brussels on April 12, 1970.
It was decided to hold the first World Cup tournament in 1971. In the meantime, Pakistan had offered to donate a trophy for the same to the International Hockey Federation.
The magnificently sculpted World Cup was formally handed over to Mr Rene Frank, president of the FIH, by Mr H E Masood, Pakistan's ambassador to Belgium, at a brief ceremony in Brussels on March 27, 1971. The design, by Bashir Moojid of Pakistan, was conceived as a single piece in the form of a hockey stick, which was to be fabricated in gold and silver.
However, a theme given by Lt. General K.M.Azhar Khan, then president of the Pakistan Hockey Federation, was worked upon by artisans serving in the Corps of Electrical and Mechanical Engineers of the Pakistan army, and the trophy took its present shape.
The gold and silver World Cup trophy stands on a 120.85 mm high blade base inlaid with ivory. It comprises a silver cup carrying an intricate floral design, surmounted by a globe in silver and gold depicting the world. On top of it is a ball and hockey stick, perfect in design and symmetry.
The trophy when mounted on its ivory base stands 650 mm high and weighs 11,560 gms.
Materials used in making the trophy include 895 gms of gold, 6,815 gms of silver, 350 gms of ivory and 3,500 gms of teak wood.
From its inception in 1971 till 1978, the World Cup was held every alternate year. Then it was made a once-in-four years affair, beginning with the 1982 edition.