From bearing the expenses of their ceremonial clothing to daily allowances of $50 per day, the sports ministry on Tuesday said it has spent around Rs 7.4 lakh on the eight-member Indian contingent at the Winter Olympics in Vancouver, Canada.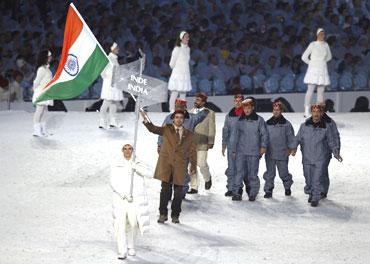 The ministry's statement comes after luger Shiva Keshavan claimed that the team was given "horrible" attire for the event's opening ceremony.
Keshavan's comments had prompted the Indo-Canadian community to raise funds for the team, which ultimately refused the money saying that it would not accept "charity".
Chef-de-mission R K Gupta had criticised Keshavan for his statements and the luger had retorted by demanding Gupta's resignation, calling him incapable for the job.
The Sports Ministry insisted that all financial help was provided to the contingent.
"Government of India has provided all possible funding for the training and participation of Indian athletes at the Winter Olympics," the ministry said in a statement.
"Ceremonial dress and heavy clothing cost Rs 20,000 per person. The organisers are paying C$1046 per person for the airfare (around Rs 45,000) while the ticket cost is around Rs 67,000. The Govt of India is paying the differential (around Rs 22,000 per person)," the statement said.
"Out of pocket allowance is $50 per person per day for three sportspersons and four coaches. This comes to around Rs 7.4 Lakhs," it added.
The ministry said it has provided "full assistance for their almost three-month-long training.
"Jamyang Nangial and Tashi Lundup: Approximately Rs 15 lakh each (which includes protective clothing, equipment, five months' coaching fee, food and acomodation, airfare, local transport, lift charges and maintenacne allowance etc).
"Shiva Keshavan: Rs 22 Lakh (which includes protective clothing, equipment, 4 months coaching fee, food and accomodation  etc)," the statement added.