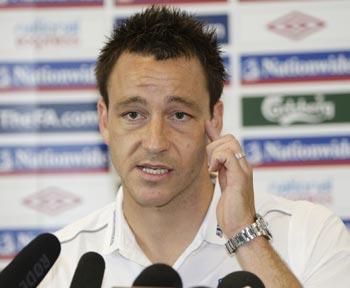 John Terry has been stripped of England captaincy after a 12-minute showdown with the coach Fabio Capello.
The Football Association are yet to announce as to who will replace Terry, but Steven Gerrard, Rio Ferdinand and Wayne Rooney seem to be the front-runners.
The decision has been taken after the Chelsea defender met the Italian boss at the Wembley Stadium -- a meeting which lasted just 12 minutes.
Terry has been the subject of intense media speculation for three days after an interim injunction he brought against a newspaper was lifted by a High Court judge last week.
Capello was keen to announce the decision on the captaincy before traveling to Warsaw for Sunday's draw for the 2012 European Championship qualifying.
Capello hoped that the saga will not overshadow England's chance of World Cup glory in South Africa and their bid for the 2018 World Cup bid.