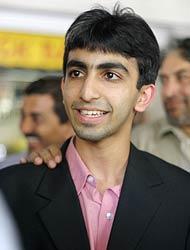 Reigning World billiards champion Pankaj Advani has supported fellow-cueist Yasin Merchant's criticism of the Padma awards' selection procedure, saying that despite it being by and large fair, it gets influenced by political pressure and lobbying.
Advani, who himself was awarded the Padma Shri last year, sympathised with Merchant, who recently wrote to AICC General Secretary Rahul Gandhi after being ignored for this year's Padma Shri.
"I believe largely the selections are fair but sometimes the political pressure and lobbying do play a role. Some players are not awarded at the right time and they keep on waiting," Advani said.
"Yasin is a very talented and experienced player. He has won the Asian champion gold twice and also has an Asiad gold under his belt, which is no mean achievement. He perhaps was very frustrated for being left out and thus wrote an emotional letter to Rahul Gandhi," Advani added.
Advani, who is in Jaipur to participate in the PSPB Billiards and Snooker tournament, said cue sports still have some distance to go before becoming popular in the country. He called upon the national federation to follow the Board of Control for Cricket in India's formula for marketing cricket in the country.
"Undoubtedly cricket is the most popular sport in our country. I watch cricket with interest and I am also a huge fan of India captain (Mahendra Singh) Dhoni. The other sports, including billiards and snooker, should also learn from cricket how the BCCI has managed to market the game," Advani said.
"We can contemplate changing the dress code and also add a few other things to make an attractive discipline like the Indian Premier League," he added.