India's Pankaj Advani is the new World Professional billiards champion.
The 24-year-old beat defending champion Mark Russel 2030-1253 to win the title at the Northern Snooker Centre in Leeds.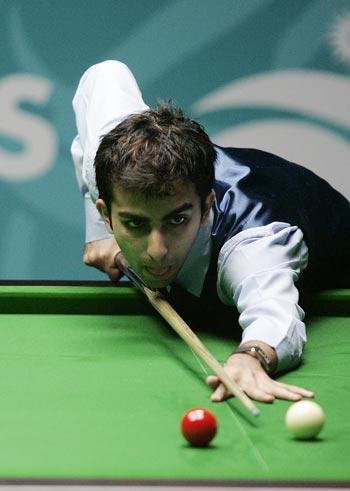 Advani is only the second Indian to win the title in its 139-history after the legendary Geet Sethi, in 1992.
Geet lost to Advani in a league match 818-482 and crashed out earlier in the tournament. Advani went on to beat compatriot Dhruv Sitwala in the semi-finals to set up the title clash.
In the other semi-final, nine time-winner Russel beat another Indian, Rupesh Shah, 1366-880.
But Russel couldn't get past Advani.
It was Advani's first world billiards title as a professional. He had already won the World amateur billiards and snooker titles.
The Bangalore-based cueist has a plethora of records against his name.
He won his first world title in 2003 -- the World Amateur Snooker Championship in China.
After winning the World Amateur Billiards Championship in 2005 at Qawra, Malta, he became only the second cueist after Malta's Paul Mifsud to win both the amateur billiards and snooker world titles.
The 24-year-old is also the only player to have achieved a 'grand double' of winning both the points and timed formats at the World Amateur Billiards Championships.
He first achieved the feat in 2005 and repeated it in the 2008 championships, in Bangalore.
Advani also won the Asian Games gold medal at Doha in 2006.