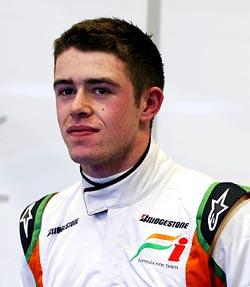 Vijay Mallya-owned Force India named 23-year-old Scot Paul di Resta as its test and reserve driver for the 2010 Formula One World Championship.
Di Resta, who outshone his American opponent JR Hildebrand in the young driver test at Jerez in December, was unveiled on Tuesday at the Glasgow headquarters of Force India's principal sponsors Whyte & Mackay.
"We are very proud to have someone of Paul's caliber joining the team as his potential was clear in the test and he has the right attitude for making it in F1," Force India chairman Vijay Mallya said.
"The programme we have put together will allow him to get to grips with the car, the team and the environment and various pressures associated with F1 and we look forward to this becoming a very fruitful partnership," said Mallya, who is also the team principal.
Force India said the driver will also continue to race in DTM, "which will serve the dual purpose of allowing Paul to learn the current F1 tracks while keeping his racing skills sharp".
The driver himself was elated with the development and said it was a great leap forward to his F1 career.
"I am ecstatic to finally get the chance to move into F1 at last. I'm pleased I can start my F1 career with Force India, a team that has a lot of potential," di Resta said.
"I see this as taking me one step closer to achieving my dream of racing in F1 but I know I have a lot to learn in terms of the car and the tracks right now. I think this programme is a perfect way to prepare fully and be ready to go if and when the chance of a race seat comes.
"I hope this will be the start of a long-term future with Force India. I'm sure we will grow together," di Resta said.