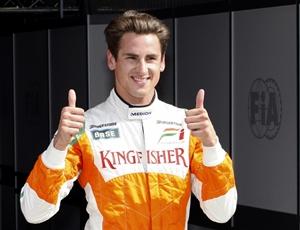 After a disappointing first year, Force India turned things around in style in the second half of the last Formula One season.
Italian Giancarlo Fisichella stunned everyone when he took pole position at the Belgian Grand Prix, and a day later created history by scoring Force India's first points and podium position in Formula One with a strong second place finish behind Ferrari's Kimi Raikkonen.
After Fisichella's departure to Ferrari, German Adrian Sutil took centre stage when he stormed to a fourth-place finish at the Italian Grand Prix during which he also clocked the fastest lap of the race.
Just a few days from his 27th birthday, Sutil enters the 2010 season as Force India's number one driver, along with team-mate Vitantonio Liuzzi. The German is confident that the Vijay Mallya-owned outfit can improve upon its performances and emerge as one of the top teams this season with regular points and podium finishes.
In a freewheeling interview with Chief Correspondent Harish Kotian, Sutil discusses his showing in 2009 and targets for the upcoming season.
What is your assessment of the 2009 season? Are you satisfied having achieved almost everything during the year, including points, a fourth place finish, second place in qualifying and the fastest lap in racing?
It was very important that finally this success came because we waited for it a long time. The last half of the season went really well and we had a good car with some good races. I am quite happy about the season. It could have better but we missed out on some races, some unlucky races, but it is a good point to start and we want to maximize all our performances this year again.
How different was the 2009 car compared to the previous one, which really failed to get going?
The previous car had a lot more problems balance-wise. It was more unstable on the braking, had less down force. The 2009 car was much better to handle. It was very neutral for driving; then we had more down force, more grip and our performance kept going up.
Would you say the 2009 Force India car was more reliable than the previous cars?
We had no problem of reliability. One of the reasons was the McLaren partnership and the good engine of Mercedes and we had no problem with it. The gearbox worked fine, the hydraulics also worked fine and we could concentrate on the main things like developing the car, because everything else was absolutely perfect. Also, for the next year it is a big advantage for us.
The 2009 car was more effective on the high speed circuits, but found wanting on the slower tracks. Is the team working on improving the performance on slow circuits?
We have to improve our performance on street circuits. As soon as we have to raise the car and lift it a little bit we lose a lot of down force. Also, we could not put enough down force for the slow corners like Monaco or Singapore and that is why we struggled. We are very good in medium down force circuits, like Spa or Monza, where you need a lot of speed.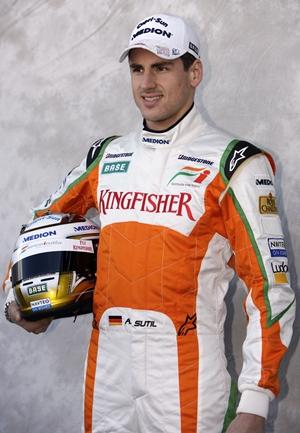 How big a boost was it for the team when Giancarlo Fisichella scored the first ever points for Force India in Belgium this year?
It was very important, because the team in general since 2005 they had no success at all. When Vijay Mallya came he promised them success of course, but at first you don't really believe in it because nothing has changed in the last few years. Since the success came I think everyone believes in his work now, the atmosphere is really good now. There has been a big change of feeling in everybody and they are keen on working now because they know things will happen.
How is the development of the 2010 car progressing?
It is very good at the moment. We are quite positive about the improvement of our car and it is a big step. We have to wait and see how the other cars out there perform, but from my personal view we are in a really good position at the moment.
Do you think the new ruling of abolishing refueling during the race will impact Force India? Will it benefit the smaller teams, since the established ones have always used the pit stops to gain positions during races?
I don't think so, because the ruling is the same for every team and nobody has the experience of it. But for the drivers it will be very different racing, because you have to take care of the tyres. The cars would be very heavy at the beginning and very light at the end. The time difference would be five or six seconds from the start of the race to the end of the race. The only thing you have to do is to change the tyres and if you can survive with one set of tyres it is a big benefit and all that includes the driving style. If you have very soft and smooth driving I think you can survive longer.
Would you say the overall speeds will go down this year because of the new rule changes for the 2010 season?
The overall speed in qualifying will be higher. Everybody will be able to gain a little bit of down force, but the difference is much higher between race pace and qualifying pace. The qualifying pace would be really fast and the start of the race would be around six seconds slower. So we have to change and adapt very quickly.
Are you happy that your bogeyman Kimi Raikkonen won't be racing this season? He cost you a lot of points, isn't it?
He cost me a lot of points, actually. But he is a great driver and hopefully he has success in rallying. I wish him all the best. Maybe, for my mind, it is a little easier, because I met him all the time. Always, whenever I was in front there was a red car with him sitting inside. It made my life really hard, but no hard feelings whatsoever.
What are your targets for 2010?
I want to reach some podiums, definitely! We were close to podiums, so for me it is the goal to reach the podium in 2010 and also consistently score points.
What is your prediction for the 2010 season? Will the top teams be threatened by the newer teams? How will Force India fare?
I think the frontrunners like Ferrari, Mercedes, Red Bull, McLaren should all be very close to each other. I think the four teams are really professional and they have the ability to develop a really good car. After that I would say we have chances to be the fifth team in the top ten; all the other teams should be in similar areas. Then you have the new teams. I think they will be little bit slower and quite far behind at the start.
How will it be racing against Michael Schumacher? Will you be nervous or go full throttle to beat the legendary driver?
I won't be nervous, because he would be a driver like everybody else. He maybe more successful than others, but he has been out of Formula One for three years. So he has to make himself comfortable first. Things have changed a lot in Formula One and there are a lot of teams that are able to win now;  the gaps are really close.
When he left Formula One there was only Ferrari and Renault fighting for the title and there was a gap of only one second or half a second. It is different right now and it would be interesting to see how he performs. But I expect him to be very strong.
Being a German, is Schumacher your favourite race driver of all-time?
Yes, he was. When I was young he was my role model and I looked up to him as a great driver. But now I am not a fan anymore of him; it's back to racing him and being competitive.