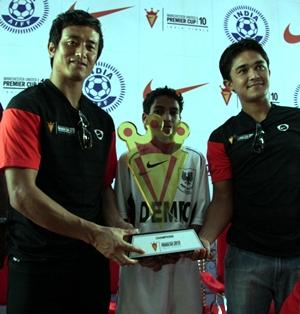 Baichung Bhutia dreams of starting a football academy provided he gets 20 to 30 acres of land for it.
India's football team captain, who was in Goa to launch the India finals of Nike-Manchester United Premier Cup (MUPC), said it (the academy) would be a long-term project.
"Personally, I want to start an academy. I want to have a very good academy," Bhutia said at Duler football ground in the presence of striker Sunil Chettri and All India Football federation (AIFF) general secretary Alberto Colaco.
"It's a dream of every footballer to have his own academy," he said, adding it can be set up in any state where he gets the land for it.
Bhutia pointed out that in Europe there are youth academies to nurture young talent while the irony of India is that the best of the football clubs do not have their own infrastructure.
"Clubs like East Bengal, Mohan Bagan, Dempo Sports Club… they don't even have their own ground," he said.
Talking about the MUPC, he advised those who win the finals, and go on to play with big teams like Manchester United, not to lose confidence looking at the huge grounds and big players.
"Enjoy the game and play best for your team," Bhutia said.
The fifth edition of Nike-MUPC tournament this year saw over 65 under-15 teams participating in it. Eight of them reached the India finals being held at Dhuler football ground.
"Through grass root initiatives like MUPC, we will continue to provide youngsters an opportunity to express their passion for the sport on a global platform," Colaco said, during the function to unveil the India finals trophy.