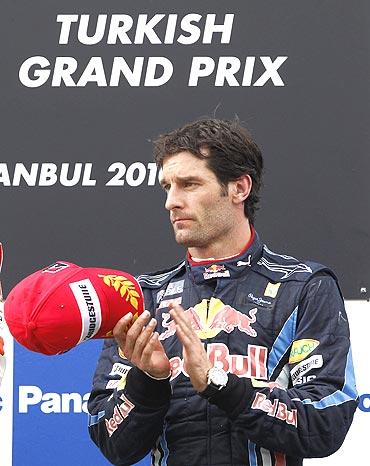 Formula One championship leader Mark Webber [ Images ] gave Red Bull their 12th pole position in 13 races this season at the Belgian Grand Prix [ Images ] on Saturday.
The Australian, favoured by a late flurry of rain that prevented rivals from matching his time in final qualifying, ended a run of four successive poles for German team mate Sebastian Vettel [ Images ].
McLaren's [ Images ] Lewis Hamilton [ Images ] joined Webber on the front row, with Renault's [ Images ] Robert Kubica [ Images ] third and Vettel fourth. The hopes of Ferrari's [ Images ] Fernando Alonso [ Images ] were scuppered by the fickle conditions and he will start 10th.
Webber, who celebrated his 34th birthday at the fast and flowing track on Friday, leads 2008 champion Hamilton by four points in the standings with seven races remaining, including Sunday's.
It was his fifth pole of the season, sixth of his career and first since Turkey in May.
"It's a great place to get pole position but we've seen a couple of times this year that the poles haven't done too much," said Webber, whose own team mate has taken seven poles and won just twice.
The driver on pole at Spa has failed to win four times out of the last five races here. Only 13 times in 43 races at the circuit has the winner started from the top slot.
"The showers that pop up here and there, there's no real consistency to them," added the winner of four races this year.
"But it wasn't that difficult today in terms of picking the weather. It wasn't too much of a mixed-up session in terms of people out of position."
HAMILTON SECOND
Hamilton, back on the front row for the first time since he took pole in Canada [ Images ] in June, looked forward to challenging Webber in the race.
"The positive thing is we are up there and in for the fight," he said. "The car feels pretty good here so we are in a good position to get some good points."
The Briton had been fastest in the second part of the session, ahead of team mate and reigning champion Jenson Button [ Images ] who qualified in fifth place.
The first part was more like a race than qualifying, with drivers jostling for position on the road after the session was stopped when Renault's Russian Vitaly Petrov spun and clouted the barriers.
With a darkening sky threatening rain at the re-start, the cars lined up at the pit-lane exit and streamed out nose-to-tail at the green light.
Brazilian Lucas di Grassi then spun at turn 14 and hit the Lotus of Italian Jarno Trulli [ Images ], with seven-times world champion Michael Schumacher [ Images ] expertly carving through the melee in his Mercedes [ Images ].
The German, back at his favourite track at the age of 41, qualified 11th but will start in 21st place due to a penalty imposed at the previous Hungarian Grand Prix for a move on former Ferrari team mate Rubens Barrichello [ Images ].
Mercedes team mate Nico Rosberg [ Images ] will collect a five-place grid penalty for an unscheduled gearbox change and should start 16th.
The penalties will lift Lotus's Heikki Kovalainen [ Images ] up to 14th place, the highest that any driver for one of the three new teams -- none of which has scored a point so far -- has started this season.
Belgian Grand Prix qualifying result:
1. Mark Webber (Australia [ Images ])       RedBull - Renault  1:45.778
2. Lewis Hamilton (Britain)      McLaren            1:45.863
3. Robert Kubica (Poland)        Renault            1:46.100
4. Sebastian Vettel (Germany [ Images ])    RedBull - Renault  1:46.127
5. Jenson Button (Britain)       McLaren            1:46.206
6. Felipe Massa [ Images ] (Brazil [ Images ])         Ferrari            1:46.314
7. Rubens Barrichello (Brazil)   Williams-Cosworth  1:46.602
8. Adrian Sutil [ Images ] (Germany)    Force India-Mercedes   1:46.659
9. Nico Huelkenberg (Germany)    Williams-Cosworth  1:47.053
10. Fernando Alonso (Spain)       Ferrari            1:47.441
- - - - - - - - - -
11. Michael Schumacher (Germany)  Mercedes           1:47.874
12. Nico Rosberg (Germany)        Mercedes           1:47.885
13. Jaime Alguersuari (Spain)    Toro Rosso-Ferrari  1:48.267
14. Vitantonio Liuzzi (Italy [ Images ])  Force India-Mercedes  1:48.680
15. Sebastien Buemi [ Images ] (Switzerland [ Images ]) Toro Rosso-Ferrari 1:49.209
16. Heikki Kovalainen (Finland)   Lotus - Cosworth   1:50.980
17. Timo Glock [ Images ] (Germany)          Virgin - Cosworth  1:52.049
- - - - - - - - - -
18. Jarno Trulli (Italy)          Lotus - Cosworth   2:01.491
19. Kamui Kobayashi (Japan [ Images ])       BMW [ Images ] Sauber-Ferrari 2:02.284
20. Bruno Senna (Brazil)          HRT - Cosworth     2:03.612
21. Sakon Yamamoto (Japan)        HRT - Cosworth     2:03.941
22. Pedro de la Rosa (Spain)     BMW Sauber-Ferrari  2:05.294
23. Lucas Di Grassi (Brazil)      Virgin - Cosworth  2:18.754
24. Vitaly Petrov (Russia [ Images ])        Renault             No time
- - - - - - - - - -
1-10: third and final qualifying session
11-17: second qualifying session
18-24: first qualifying session