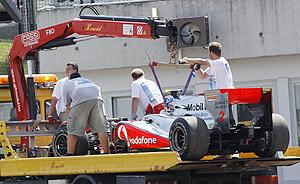 Formula One championship leader Lewis Hamilton [ Images ] retired from the Hungarian Grand Prix [ Images ] on Sunday in only his second failure to score points this season.
The McLaren [ Images ] driver had started the day 14 points clear of fellow Briton and teammate Jenson Button [ Images ] and 21 ahead of Red Bull drivers Mark Webber [ Images ] and Sebastian Vettel [ Images ] with seven races remaining.
Australian Webber was leading Vettel, who started on pole, in a Red Bull one-two after 26 of the 70 laps. World champion Button was back in ninth place.
Hamilton pulled over on lap 24, saying there was something wrong with the car.