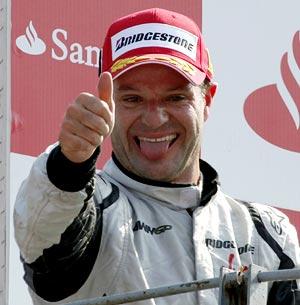 Michael Schumacher can give up right now if he thinks he will one day eclipse Rubens Barrichello's record number of Formula One races.
The Brazilian celebrates his 300th Grand Prix in Belgium this weekend, the first driver to do so having passed long-retired Italian Riccardo Patrese's mark of 256 more than two years ago.
Schumacher, making a comeback at the age of 41 and after three years out, has a multi-year contract with Mercedes and is preparing for his 263rd race but Barrichello said on Thursday that the seven-times champion and former Ferrari team mate could forget about ever topping the longevity list.
"I will definitely race as long as he races," the 38-year-old Williams driver laughed, wearing a T-shirt with a speedometer on it marked 0-300 with the needle pushing past the 300 mark.
For some, the end of the road comes when they no longer have a hope of winning the championship or lose interest in going around in circles.
Barrichello, who started out in 1993 with the Jordan team, appears as much in love with the sport as ever. He even claims to be physically fitter now than at 18 years old.
"Mentally, I am probably better than at any other time," he added. "You have your body getting used to Formula One as well and that's part of what I say...I just feel better today than I used to."
HIGHS AND LOWS
To put Barrichello's longevity into perspective, the Brazilian has now figured in more than a third -- 36 percent to be precise -- of all championship races since the first in 1950.
There have been 832 championship Grands Prix over the decades, although the seasons in the days of Juan Manuel Fangio and Stirling Moss consisted of far fewer rounds than today.
The fact remains that no driver has raced a Formula One car through Spa's sweeping Eau Rouge more often than Barrichello, now in his 18th season, or through Monaco's Casino Square and Monza's Parabolica.
Having gained a new lease of life with Brawn GP last year after Honda pulled out abruptly, the day when the Brazilian hangs up his helmet could be some way off.
"I am so competitive I cannot imagine myself without a racing car," said Barrichello, who happily got up in the early hours while on holiday in Brazil this month so he could continue training on European time.
"My wife is terrified. She thinks I'm going to race forever. But that's the feeling.
"The last time when I woke up at four o'clock to go down to the gym, she said 'you're damn crazy'."
Twice overall runner-up to Schumacher at Ferrari, where the German was the acknowledged favourite son, Barrichello won nine races with the Italian team and two with championship-winners Brawn GP last year.
He said he has no regrets about missing out on a title, although even in the twilight of his career he has not given up hope entirely.
His worst moment in the sport was the 1994 San Marino Grand Prix, a race scarred by the deaths of Austrian Roland Ratzenberger and his own friend and mentor Ayrton Senna at the wheel of a Williams.
"It hurt the most," he said. "Not having Senna was tough... it was the first funeral I went to as well."
The highs are harder to single out, if only because Barrichello said every race brought with it a new thrill and rush of adrenalin. "The highs in my career have been overcoming the problems and smiling at them and getting on," he said. "But I think Hockenheim 2000 is always going to be a high."
That race, in the wet and unsettled by a disgruntled former Mercedes employee trudging along the verge of the track, was his first Grand Prix win and one of the most emotional.
In reflective mood, Barrichello said he has spent recent weeks transferring video tapes of all his career races on to DVD and watching some of the early ones in Formula Ford and F3.
"I got back at 5.30 in the morning and the kids are sleeping, my wife is sleeping. I had to do something... it's been funny those times watching the races. I have a good memory for all of them," he earlier told a crowd of reporters as big as any that had gathered around title contenders elsewhere in the paddock.
"I think it's going to be a hard decision to say I'm going to stop but an easy one from the fact that I've been so honest to myself that the day I don't feel such a big pleasure on taking the corners, I will know exactly what it means."