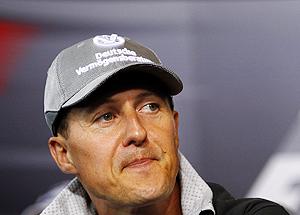 Seven times champion Michael Schumacher was handed a 10 place penalty on the starting grid for this month's Belgian Grand Prix for impeding Rubens Barrichello in Hungary on Sunday.
The governing International Automobile Federation (FIA) said in a statement the four race stewards had ruled that the Mercedes driver had "illegitimately impeded" the Brazilian's Williams during an overtaking manoeuvre.
Schumacher will be dropped 10 positions from wherever he qualifies at Spa on August 28.
Barrichello took the final point in the race with his former Ferrari teammate Schumacher 11th.
Mercedes were also fined $50,000 for the unsafe release of Nico Rosberg's car during a pitstop that saw the German's tyre work loose and bounce down the pit lane.
Renault were fined the same amount for a similar offence involving Poland's Robert Kubica.