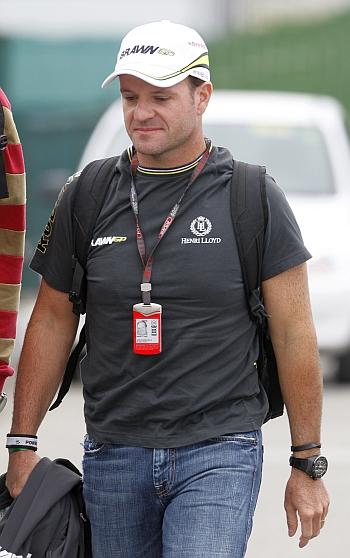 Brazilian Rubens Barrichello accused former Ferrari team-mate Michael Schumacher of trying to drive him off the track on Sunday in the most dangerous manoeuvre of his Formula One career.
"I like a fair fight. But that wasn't fair here," the Williams driver told Sky Deutschland TV at the Hungarian Grand Prix after Schumacher forced Barrichello's car to skim the pitlane wall at around 300kph as they duelled for 10th place.
"If Michael wants to go to heaven -- in the event that he is going to heaven -- then I don't really care. But I don't want to go before him," he added.
-Images: Webber wins in Hungary to take F1 lead
Barrichello went past to take the final point late in the race while Schumacher, making a comeback at the age of 41 and after three years in retirement, was 11th for Mercedes.
The stewards ruled that the seven-times world champion had "illegitimately impeded" the Brazilian and handed him a 10-place penalty for his next race, his favourite Belgian Grand Prix later this month.
"He kept on coming even though I was already alongside," Barrichello told reporters in the Williams motorhome.
"I was lucky that the wall finished.
"I was millimetres from the wall," added Barrichello, who spent six years at Ferrari with Schumacher where the German regularly benefited from preferential treatment.
SAME SCHUMACHER
Barrichello said he had been in mood to back off and said action was necessary because Schumacher was such a role model for youngsters.
"If you take a photo of the wall and us, there is not a hair in there. It's unbelievable...I am very glad and very lucky that we are here to talk," he said.
Barrichello added that he had not spoken to Schumacher because to do so would be pointless.
"You know Michael, you talk to him and he's always going to feel he's right...he's been stopped for three years and we can see he didn't change. He's still the same guy.
"He's carrying something from the past that is not necessary today," he added.
Schumacher, whose comeback has disappointed those who expected him to get back among the winners, was dismissive of Barrichello's complaint.
"We know certain drivers have certain views, and then there's Rubens," he told the BBC.
Team principal Ross Brawn, who was technical director at Ferrari with both drivers, defended the German.
"It was pretty tough -- a tough move by Michael and a tough decision by the stewards," he said.
"I don't think for a moment that Michael was trying to put Rubens in the wall -- but he was trying to discourage him from coming down the inside because he thought that was where he would be vulnerable.
"At the end of the day he gave him enough space. You can argue that it was marginal, but tough racing," he added.