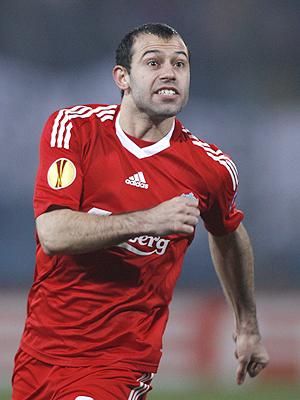 Inter Milan has confirmed that they have made an official 20-million-pound bid for striker Javier Mascherano.
The Sun quoted Inter Milan sporting director Marco Branca, as saying: "I sent an offer to Liverpool by fax on Tuesday and I am waiting for a reply from them. We're not speaking to the player at the moment because we want to do this in the right way and make sure that Liverpool are happy."
"Everybody knows that Mascherano would like to change team and to change country. He also has a good relationship with our manager Rafa Benitez.  We've made a very good offer, around the amount they are asking for. We have a strong team here, the best in Europe, but we would like to add one or two players to make us even stronger," Branca added.
Barcelona has also tabled a 12 million pound offer for him, eight million pound short of Liverpool's valuation.
Mascherano was left out of the side beaten 3-0 at Manchester City on Monday, and had to train by himself the following day. He did not travel for the Europa League game away to Trabzonspor on Thursday night.