NBA ace Pau Gasol discusses a wide range of issues, including Indian participation in basketball's flagship event, with Bikash Mohapatra.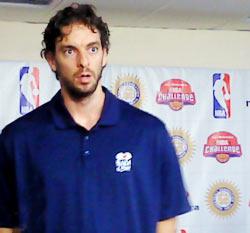 When a seven feet giant is standing right in front of you it is impossible to think about anything else but his height.
And when the person in question is a champion, someone you have seen on television but least expect to see in Mumbai of all places, your woes increase.
Being objective in such a scenario becomes next to impossible -- in any case we Indians are a star-struck lot -- and looking at the player in awe only ensures you forget the questions you are supposed to ask.
It is here that the player can make things easier. And that is precisely what Pau Gasol did, to his credit.
By quickly taking a seat, he helped a lot in overcoming the awe-factor settle down and focus on the questions to be asked.
The Spaniard, a high-profile figure in the National Basketball Association (NBA) and a success story, having made it three times into the NBA All-Star team and being a part of two-time defending champions Los Angeles Lakers, isn't exactly a rags-to-riches story, but is definitely a tale of a dream coming true.
And Gasol is the first person to admit it.
"When I was about 21 years old I was drafted into the NBA. At that time I was only the second ever player from Spain to play in the NBA," he reminisces, adding, "It was a dream come true.
"Growing up it was like an impossible mission, to expect yourself play at this level."
Basketball, despite being more global now than it ever was, is still a very American sport. So how difficult, rather challenging, was it to make it big in such a scenario?
"The challenges come when you are growing up," says Gasol. "It comes when you have to decide between education or a career as a pro athlete. It is a decision where you are risking something," he adds.
Did he ever face such a challenge?
"I was able to study medicine as well. But I had to quit after the first year as I couldn't balance both (basketball and medicine)," admits Gasol. "Medicine, in itself, is a very demanding subject.
"But I chose basketball, and it has worked for me," he adds.
After a seven-year stint with the Memphis Grizzlies, sans any major silverware, the Spaniard, in February 2008, switched to Los Angeles Lakers, thereby teaming up with the popular Kobe Bryant.
And it is a move that worked big time. The LA Lakers have made it to all three NBA Finals since and won on the last two occasions.
Despite the fact that rivals Miami Heat have bolstered their line-up in close season, signing the likes of LeBron James, Dwyane Wade and Chris Bosh, Gasol believes Lakers have what it takes to win a third straight title.
"They (Heat) can always sign a few big players. But it is the team that has to perform," he reasons. "A few players cannot make a difference.
"We always worry about ourselves. We are happy about the players we have signed and are excited about our chances," he adds.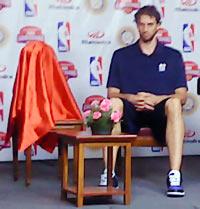 The 30-year-old's success isn't only confined to the NBA. Gasol also helped Spain win its maiden FIBA World Championships in 2006 and followed it up with success in the European Championships last year, the successes coming in the period that coincided with Spanish triumphs in many other sports.
Ask him what makes Spain such a great sporting nation and Gasol is quick to come up with a response.
"We worked very hard from the time when we are young and then results started to come. It has been very contagious thereafter," he admits, adding, "We all want to succeed. It is a matter of being ambitious and wanting to succeed."
The 30-year-old admits the present is the best time for Spanish sport.
"Right now we are living a dream," he says, before dropping in a word of caution, "But we are very humble about our success."
On the negative side, Gasol won't be able to add to that success, having pulled out of Spanish squad -- fatigue and injuries being the official reasons -- for the upcoming World Basketball Championships in Turkey.
Since he is not busy playing the game, he is promoting it. And that is what brings him to Mumbai -- to conduct a basketball clinic as part of the Mahindra NBA Challenge.
But ask him how long it will take for an Indian to make the cut in the NBA and the Spaniard comes up with a pragmatic, if not pleasing (considering we are an emotional lot), answer.
"It is hard to say," says Gasol, matter-of-factly, adding, "It depends on a lot of different factors."
The hoopster believes it may still be a distant dream, but can never be ruled out.
"We have just started doing the groundwork now," he points out. "And it is very important to make a start at some point.
"Hopefully, one day it will happen. It is just a matter of time," he adds, giving the aspirants a ray of hope.
And what about his own career? How long does he intend to continue?
"Now even when I am 30 years of age, I still want to improve as a player," he replies.
"Basketball is my life and it has given me a lot of opportunities."
Photographs: Bikash Mohapatra