Even as her high-profile colleagues decides to stay away from this year's Commonwealth Games, 800m world champion Caster Semenya of South Africa has confirmed her participation in the October 3-14 mega-event to be held in Delhi.
"I'm on the list and they just have to announce the team," Semeya was quoted as saying in the Daily Telegraph.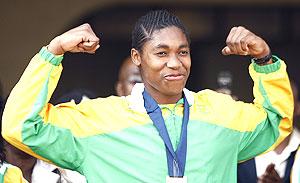 Semenya timed 1 min 55.45 sec to claim her world title last year and the South African said she can still reach it again if the pace is quick enough in India. "I can't estimate the time," she said.
"It's possible, but it just depends on the body. It all depends on my coach and how he trains me. "I'm quite happy with my performance. I wasn't expecting to run fast like that. My coach was expecting under two minutes so it was pretty good (1-59.90). I just have to do some more training so I can run faster," she added.
She will take on the world's best in Friday's Diamond League final in Brussels, before completing her European campaign with two races in Italy. Semenya said she was delighted to return to Berlin as she only had "good memories" of the German capital.
"It feels good to be back in Berlin," she said.
"I did not think about everything that happened after my gold medal. I just concentrated on my race and my time. When I won the race, it brought back memories of the 2009 final for me," he added.
The 19-year-old had to suffer a lot after failing the gender test last year following her World Championship gold.
However, with the International Association of Athletics Federations (IAAF) clearing her return, the South African made a successful comeback after an 11-month absence.