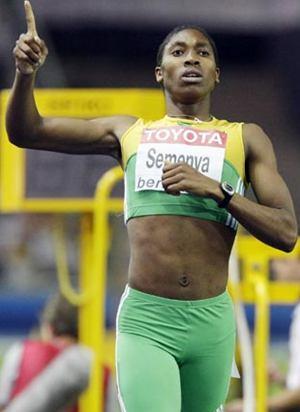 Caster Semenya, the 18-year-old South African women's 800 metres World champion, has both male and female organs, according to Australian newspaper the Sydney Daily Telegraph.
It said Semenya has three times more testosterone than a normal female and internal testes -- male sexual organs which produce testosterone, which in turn produce muscle bulk, body hair and a deep voice.
The paper added that Semenya is unaware of the tests identifying her as a hermaphrodite.
Tests, according to the paper, examined her physical make-up as well as her chromosomes and DNA.  'The process involved a physical medical evaluation and assessments by a gynaecologist, psychologist, internal medicine specialist and gender expert.'
The runner, who was raised as a girl by her family, has undergone a series of tests to try to end the speculation about her sex following the gold medal victory.
Powerfully-built but beautifully relaxed in motion, Semenya clocked 1 minute, 55.45 seconds for the year's fastest time and a personal best by more than a second at the World championships.