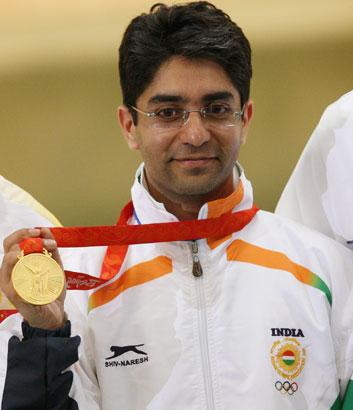 The gold medal fetched by rifle shooter Abhinav Bindra in the 2008 Beijing Olympics, the country's first-ever individual yellow metal in the Games long history, has been chosen by All Sports magazine as the greatest Indian sporting achievement of all time.
The magazine, in its third anniversary special issue of April 2010, has also nominated chess ace Viswanathan Anand as the greatest-ever sports person from the country.
Anand got this accolade "for his feat of winning three chess world championships in different formats as well as numerous other tournaments in the elite division and single handedly igniting a chess revolution in the country," said the magazine on Wednesday.
The Chennai wizard has usurped this distinction over the heads of other deserving claimants like Dhyan Chand, Sunil Gavaskar, Kapil Dev, Geet Sethi, Sachin Tendulkar, Anil Kumble, among others.
Controversially, the magazine's jury panel of contributors left out cricket icon Tendulkar from its top-ten list of Indian achievers/achievements in sports.
The Top 10 Indian sporting achievements of all time
1. Abhinav Bindra's individual gold medal in shooting at the 2008 Beijing Olympics.
2. Kapil's Devils' coup in the 1983 Cricket World Cup.
3. Dhyan Chand-orchestrated golden symphony in the 1936 Berlin Olympics field hockey event.
4. Viswanathan Anand's victories in the 2007 (tournament) and 2008 (match play) FIDE World Chess Championships.
5. Wilson Jones's triumph in the 1958 World Amateur Billiards Championship in Kolkata.
6. Prakash Padukone's triumph at the All England Badminton Championship in 1980.
7. Leander Paes' bronze medal-winning feat in the 1996 Atlanta Olympics tennis singles.
8. Milkha Singh's gallant run in the 400 m final at the 1960 Rome Olympics to finish 4th.
9. Mohun Bagan's sensational 2-1 victory over East Yorkshire Regiment in the 1911 IFA Shield final.
10. Ajit Wadekar's twin series triumphs in the West Indies and England in 1971.