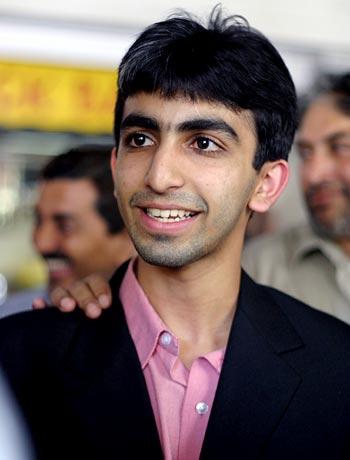 Ace cueist Pankaj Advani is confident of defending his title in the Asian Billiards Championship beginning in Indore on Tuesday but reckons it would be far from a cakewalk because of the unpredictability of the 100-up format.
"The format is very unpredictable. It's an 100-up format which means you have to first score over 100 points to win the frame," Advani said.
"The best of five frames is usually the format and the games are very short. It can get over anywhere between 45 minutes to an hour. And top eight players of India who are playing in this format, anyone of them can put the break of 100," he added.
Advani won the Asian Billiards Championship for the first time in 2008 in Myanmar and last year in Pune, defeating Singapore's Peter Gilchrist 5-3 frames.
"Of course I will be trying to defend my title for the third time against the top players and I think my chances are as good as any of them. I am confident of a good show and I am satisfied with my preparations," he said.
Advani's confidence stems from his rollicking start to the new season, winning the inaugural edition of the Six-Red Snooker Nationals in Bangalore last month and achieving top rank in the overall standings in the selection trials for the Asian Billiards championship and the Asian Games later this year in China.
Advani will take on compatriot Rupesh Shah in his first Group 'A' encounter of the tournament which was originally scheduled in Karachi but was later shifted to India because of the volatile security situation in Pakistan.
Advani said he would have loved to visit Karachi if the tournament had taken place as was planned, as he had fond memories attached to that place.
"People there are generous. I have no security fears, not at all. It's a place of which I have very fond memories. It's a place I always look forward to visiting because of the hospitality that is extended to me. There you feel like at home," the reigning world professional billiards champion said.
"I faced no problems in Karachi. I have been there 3-4 times and I really loved that place. No issues with me. ACBS (Asian Confederation of Billiards Sports) had taken that decision and they must have kept something in mind," he said.
Talking about India's upcoming talent in both Billiards and Snooker disciplines, Advani said, "Saurav Kothari, Manan Chandra and Aditya Mehta are shaping well in Snooker, while in Billiards you have Dhruv Sitwala and Rupesh Shah.
"All these guys are coming up very well and have shown their credentials," he said.