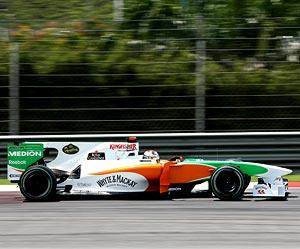 Force India's Adrian Sutil was seventh in the first practice session before he returned to clock the 10th fastest time in the afternoon while Hispania driver Karun Chandhok got some long runs under his belt before Sunday's Malaysian Grand Prix in Sepang.
Sutil was not at his best on the dusty track but the German still clocked one minute 35.955 seconds in the first practice session for the seventh place in the timesheet and registered 1:35.957 in the afternoon to finish 10th.
"I had to be a little bit patient as the track was dusty at the beginning so it was just driving and learning the circuit again. In the afternoon we then went to do a little set-up work," Sutil said.
"It was difficult with the temperatures we experience here as the tyres overheated very quickly and it was challenging to get it under control," he said.
With rain looking very much a possibility on Saturday, Sutil said the qualifying session would be interesting.
"We have a few things to look at set-up wise but we are in the top 10 still, just behind the top four teams. I think it will be an interesting day, probably with some rain thrown in as well," the German said.
His team mate Vitantonio Liuzzi, who skipped the morning session, finished 12th in the evening session with a best timing of 1:36.221.
Force India test driver Paul di Resta, who took over from Liuzzi in the morning session, managed 15th spot in the first practice session with 1:36.891.
Like Sutil, Liuzzi too felt rain would add spice to the qualifying session.
"It looks like qualifying here will be interesting as the rain started at 4pm but we can deal with the conditions I am sure," the Italian said.
Chandhok, meanwhile, completed 24 laps in the morning session, for a best lap time of 1.41.966, and managed another 27 in the afternoon and the Chennai driver sounded thoroughly satisfied.
"The practice sessions were useful for us as we did some long runs. It is positive that we did that many laps today, which was our objective for this weekend," he said.
 McLaren's Lewis Hamilton set the fastest times in both the practice sessions and his best lap of one minute 34.175 seconds in the second session was better than what Red Bull's Sebastian Vettel and Mercedes' Nico Rosberg could offer.