Fresh from a podium finish in Singapore, Timo Glock is uncertain which Formula One team he will represent next season but another good showing for Toyota in Suzuka on Sunday would certainly raise his profile.
"The teams are looking around, the drivers are looking around, so it's quite an interesting period in Formula One," Glock said.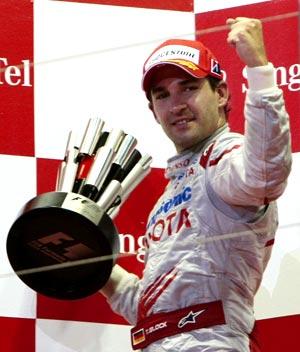 "A podium like we had in Singapore does show what I can do."
The German driver boosted Toyota's hopes for this weekend's Japanese Grand Prix by taking second place on the floodlit streets of Singapore last Sunday.
However, Glock knows his 2010 contract option may not be taken up by Toyota.
He said there was still a chance he would race for the team again next year but he had also held talks with several of their rivals.
A Toyota Motor Sports spokesman said Glock and team-mate Jarno Trulli were still under consideration for 2010.
"We haven't closed the door on Timo and he hasn't closed the door on us," the spokesman said.
"He remains a possibility for 2010 as does Jarno."
Japanese rivals Honda quit the sport in December and BMW are pulling out at the end of this season, creating a wealth of available talent for the remaining teams.
"The market is a bit full at the moment with drivers but my possibilities are quite good," Glock said.
Toyota are desperate for their first win in Formula One since entering the sport in 2002.
Team principal Tadashi Yamashina said Glock's performance was a step in the right direction ahead of Suzuka. A victory there could put an end to speculation about the Cologne-based team's future, despite a commitment to stay in the sport until at least 2012.
Italian Trulli has not yet arrived in Japan. Toyota said he had been suffering from a fever since before the Singapore race but was expected to drive in Suzuka.
Rain is expected on Friday, a factor that could help Glock.
"I've always been quick in wet conditions, it's always down to the driver," said the 27-year-old who was third in April's rain-shortened race in Malaysia.
"To be on the podium in Singapore was great, to be on the podium in Malaysia was great, but to be on the podium in Suzuka or win the race would be a mega-dream.
"I would stay four or five days longer in Japan having a party with Toyota people," added Glock.