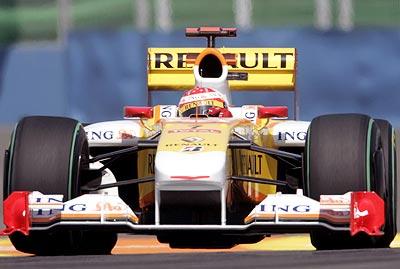 Timeline after the International Automobile Federation (FIA) gave Renault a two-year suspended ban from the Formula One world championship after the team admitted to race-fixing at the 2008 Singapore Grand Prix:
September 28, 2008: Renault's Nelson Piquet crashed on lap 13/14 of the Singapore Grand Prix, allowing team mate Fernando Alonso to move into the lead behind the safety car having just refuelled. Alonso went on to win the race.
August 3, 2009: After scoring no points from 10 starts, Piquet received notice from Renault they were withdrawing him from the championship with immediate effect.
August 30: Formula One's governing body the FIA (International Automobile Federation) opened an investigation into the 2008 Singapore race.
September 4: The FIA said in a statement Renault would face charges of fixing the Singapore race and team representatives had been summoned to a meeting in Paris on Sept. 21.
September 11: Renault started criminal proceedings against Piquet and his father, a triple Formula One world champion, for alleging the team rigged the Singapore race. On the same day, Piquet Jr was offered immunity from prosecution by FIA president Max Mosley if he told the truth.
September 16: Renault said it would not contest the race-fixing charges and boss Flavio Briatore and director of engineering Pat Symonds left the team.
September 21: Renault were handed a two-year suspended ban from Formula One until the end of the 2011 season at an FIA World Motor Sport Council hearing in Paris.
Briatore was banned from any further involvement in the sport while Symonds got a five-year ban. Spanish double world champion Alonso was exonerated of any involvement. Piquet Jr had been granted immunity before the hearing.