Belgian Kim Clijsters crowned her remarkable comeback by beating Caroline Wozniacki of Denmark 7-5, 6-3 to win the US Open women's title on Sunday.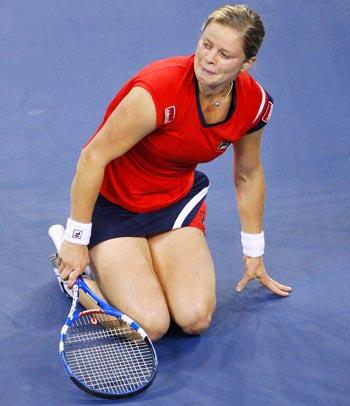 Clijsters, playing her third tournament after taking more than two years off to start a family, clinched her 93-minute victory with a forehand winner and dropped to her knees in celebration, visibly sobbing.
The 26-year-old Belgian climbed up to the family box to hug friends and kiss her husband, Brian, after adding a second grand slam triumph to her 2005 US Open victory.
It took a while for Clijsters to find the range with her groundstrokes against the ninth-seeded Dane, who was appearing in her first grand slam championship match.
By the end, Clijsters was cracking winners off both wings and registered 36 winners in all to just 10 for the defensive-minded Dane.
The story so far:
* Born on June 8, 1983 in Bilzen, Belgium, Clijsters is the daughter of Belgian international footballer Leo Clijsters and national gymnastics champion Els Vandecaetsbeek.
* Made her senior tournament debut on ITF circuit in Belgium in 1997, losing in the quarter-finals.
* Quickly established her rivalry with compatriot Justine Henin in ITF circuit events in Belgium during 1998.
* Claimed the women's doubles title at Roland Garros with Japanese partner Ai Sugiyama in 2003, and teams up with Sugiyama again to capture the women's doubles title at Wimbledon.
* Became the first Belgian to be ranked world number one in 2003 after triumphing in Los Angeles.
* Suffered for two years with injuries, but won the US Open in 2005, seeing off France's Mary Pierce 6-3 6-1.
* Following a two-year break to start a family, she won the 2009 US Open title to become the first mother to win a grand slam title since Evonne Goolagong triumphed at Wimbledon in 1980. In only her third tournament back, the Belgian wildcard beat Danish ninth seed Caroline Wozniacki in the Flushing Meadows final.
* Became the first Belgian to reach a grand slam final at the 2001 French Open, where she was beaten 12-10 in the deciding set by Jennifer Capriati. It remains the longest third set in a Roland Garros women's final.
* Helped Belgium to win the country's first Fed Cup title, winning all four of her singles matches throughout 2001.
* Along with Henin, she received Belgium's Trophy for National Sporting Excellence in 2002.
* In 2003 she reached her second Roland Garros final but once again left empty-handed after losing in straight sets to the newly married Henin-Hardenne.
* Ended relationship with former Australian world number one Lleyton Hewitt in 2004 just weeks before their scheduled wedding date.
* Retired on May 6 2007 from professional tennis due to injuries, then married American basketball player Brian Lynch and gave birth to a daughter in 2008.
* After announcing she would compete in the World Team Tennis event in the United States this year, Clijsters announced in March 2009 she would also return to the WTA Tour.