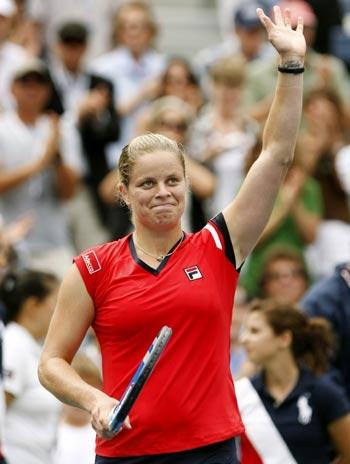 Belgium's Kim Clijsters reached the US Open final on Saturday after defending champion Serena Williams was defaulted on the final point.
She will meet Caroline Wozniacki of Denmark, who beat error-prone Belgian Yanina Wickmayer 6-3, 6-3
Clijsters won the match 6-4, 7-5, which ended in controversy when the American was called for a foot-fault on a second serve to go match point down. An angry Williams argued with the lineswoman who reported her for verbal abuse.
Having already received a warning earlier in the match for smashing a racket, Williams was handed an automatic point penalty for a second violation which gave the Belgian the match.
Clijsters, playing in only her third tournament after taking a two-year break to start a family, became the first mother to reach a Grand Slam final since Evonne Goolagong achieved the feat at Wimbledon in 1980.
Ninth-seeded Wozniacki, who became the first Danish woman to reach a Grand Slam singles final, covered her face with her hand as tears came to her eyes at the end of the 96-minute match at a virtually deserted Louis Armstrong Stadium.
Wozniacki won the battle of 19-year-olds by steadily trading groundstrokes against big-hitting Wickmayer and waiting for her unseeded opponent to make mistakes.
In a match delayed more than seven hours from its scheduled afternoon launch because of wet conditions, the unseeded Wickmayer made 40 unforced errors, mainly from her booming forehand, against just 14 for the Dane.
Because of the backlog in the rain-battered schedule on the closing weekend at Flushing Meadows, their semi-final was played at the same time as Clijsters and Serena Williams were dueling at the adjacent, 23,000-seat Arthur Ashe Stadium.
A sedate audience of only a few hundred gathered close around them at the 10,000-seat court. The only cheers heard were those that drifted down from the towering main stadium.
That did not stop Wozniacki from executing the same game plan that lifted her to a 6-2, 6-2 quarter-finals victory over US tournament darling Melanie Oudin.
Playing it safe while demonstrating an athletic, all-round game, the eighth-ranked Dane won the first set despite holding serve just twice as she broke number 50 Wickmayer four times.
Wozniacki, a winner of three tournaments this year including the New Haven run-up event for the Open, claimed victory on her second match point when, fittingly, Wickmayer belted a forehand wide.
The Dane will face 26-year-old Clijsters, the 2005 champion who has returned this summer to competition after more than two years off to start a family, in a Sunday night showdown.