Mercedes and the Brawn GP team declined to be drawn on Monday about reports the German carmaker planned to buy a stake in the Formula One championship leaders.
"Our cooperation with various Formula One teams obviously gives rise to various rumours," said a Mercedes motorsport spokesman.
"Nevertheless, we would like to ask for your understanding that our company in principle is not in a position to comment on rumours.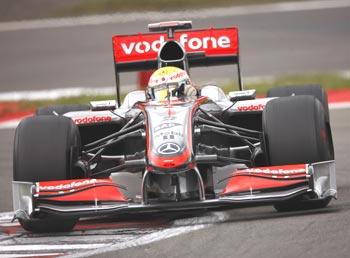 "The facts are that we have long-term contracts with partner McLaren with whom we won the last F1 championship."
The Daily Telegraph newspaper reported earlier that Mercedes were set to become a shareholder in Brawn, in addition to having a 40 percent stake in rivals McLaren.
The autosport.com website, citing unnamed sources, said talks were at an advanced stage.
Mercedes already provides engines to Brawn, who emerged from the remains of the Honda team after the Japanese manufacturer pulled out at the end of last year for financial reasons, as well as Force India.
Brawn have won seven of the season's 12 races so far with Britain's Jenson Button top of the standings.
McLaren have just one win, with world champion Lewis Hamilton likely to be mathematically out of the championship reckoning after Sunday's Italian Grand Prix.
"Mercedes-Benz's engine supply contract with McLaren is a very long-standing one—it's in its 15th consecutive year, in fact—and it will continue to run for many years to come," said a McLaren spokesman.
"However, we're supportive of our partner's plans (regarding) engine supply of other teams in Formula One, and we were delighted earlier this year that a Mercedes-Benz engine supply deal was able to be done with Brawn, thereby saving that team from likely extinction.
"Both McLaren and Mercedes-Benz remain extremely satisfied with our Formula One collaboration, which has netted three drivers' world championships and one constructors' world championship as well as dozens of grand prix victories."