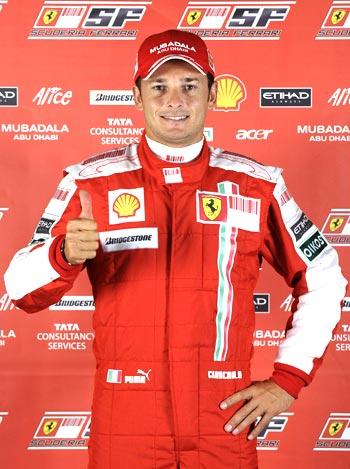 New Ferrari driver Giancarlo Fisichella beamed from ear to ear at his official unveiling on Monday and said he was especially pleased to have received Felipe Massa's full backing.
The Italian, who left Force India to compete for the world champions for the last five races of the season, will fulfill a life-long dream when he clambers into the famous red car at his home Grand Prix this weekend.
Brazil's Massa, whose previous replacement Luca Badoer was dropped after two poor races, is not scheduled to race again until next year after suffering a fractured skull at July's Hungarian Grand Prix.
"I spoke to Massa on the phone, he said he was happy for me and that it had been the right decision to choose me," Fisichella told a news conference at Ferrari's Maranello base.
"I said I was really sorry for what happened to him and to recover quickly. 'When you want the car back, come and take it because this is your car. I hope to achieve what you would have,' I said."
Fisichella, who will also be Ferrari's reserve driver next season, added: "At 36 I'd lost hope. But obviously you never say never."