The VJM02 will remain the same blindingly fast car, with or without Giancarlo Fisichella, and Adrian Sutil is good enough to score points in the remaining five races of the 2009 season, said Force India chairman Vijay Mallya.
Mallya dismissed suggestions that losing Fisichella—so far the team's only point-scoring driver—would render the team a lesser force, and insisted that in F1, it all boils down to the car, more than its driver.
"Let's get one thing clear. Fisichella's presence or absence will not make the car go faster or slower. The car has already been developed and it's competitive and blindingly fast," a nonchalant Mallya said.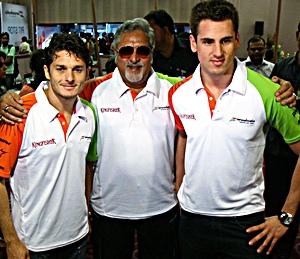 "Let's understand the driver's responsibility. His first responsibility is to work with the engineers to develop the car. For all of last year and this year, Fisichella has worked with the engineers to develop a car and we now have a truly fast car.
"Now going forward, there are five races to go this year and I can tell you that there is no rule that only Fisichella can score points with this car," he said.
"Now that we know that the car is good and competitive, Adrian Sutil can score points. In fact, I would go on to say that the new driver we put in the car can also score points because at the end of the day, we have successfully developed a car that is fast and competitive," Mallya said.
Insisting that Fisichella's exit doesn't mean end of the world for Force India, Mallya said, "If I thought that Fisichella's departure is going to affect the prospect of the team, I would not have let him go."
His assertions notwithstanding, Fisichella's exit came as a shock since both the driver and Mallya have been denying those paddock rumours since the Italian's sensational podium finish in Sunday's Belgium Grand Prix.
Explaining why he let Fisichella go, Mallya said the Italian's contract with Force India expires with the next five races and the team was "not in a position" to offer him a new contract for 2010-11.
So when Fisichella sought an early release, Mallya said he did not want to be the spoilsport, since Ferrari was offering the Italian a long-term role there.
"See, the fact of the matter is Fisichella was already negotiating with Ferrari for 2010 and onwards, since I have no contract with him beyond 2009. I'm also not in a position to offer him a contract for 2010 and 2011. So basically he was already discussing his future with Ferrari."
"Now what has happened is because of Felipe Massa's (whom Fisichella would replace in Ferrari) accident, what was going to happen in January 2010 has happened on September 2009, as simple as that," Mallya said.
"Fisichella came to me and said he is at the fag end of his racing career. We don't have a contract to offer him beyond 2009 season and here he is getting a good opportunity in Ferrari.
"So he asked me 'Boss, kindly let me go so that I can have three years more in the circuit and can run with the iconic Ferrari'.
"On compassionate ground, I said 'OK'. Mind you, I did not even ask for any compensation. I basically said if the man is getting the opportunity why the hell should I stand in his way?" Mallya said, denying any financial considerations in the whole episode.