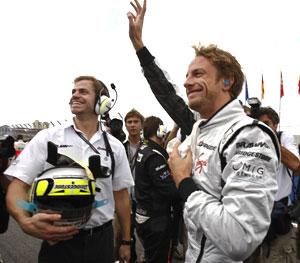 Jenson Button and his Brawn GP team were crowned Formula One champions with a race to spare in an action-packed Brazilian Grand Prix won by Red Bull's Australian Mark Webber on Sunday.
Button finished fifth to become Britain's 10th world champion, with closest rival and team mate Rubens Barrichello suffering the heartbreak of a late puncture and crossing the line eighth after starting his home race on pole position.
While Barrichello's own title hopes were fading anyway before that, nothing could stop Brawn -- the former Honda team saved from the scrapheap in March -- from becoming the first team to take the constructors' crown in their first full season.
Button, who belted out an off-tune "We Are The Champions, My Friends," over the team radio on his slowing down lap, was ecstatic after a rain-hit qualifying session had left him starting 14th.
"I am the world champion, baby, and I'm not going to stop saying it," he yelled.
"This race for me was the best race I've driven in my life, probably," added the 29-year-old. "I know it's because of the emotion involved with it but also because I knew I had to make it happen."
Webber celebrated the second win of his career, with Brazil's injured Ferrari driver Felipe Massa waving the chequered flag.
"I think he (Button) can sleep better now because he's been absolutely bricking it after the last few races," Webber said with a smile, his victory completely eclipsed by the Brawn celebrations. "He can enjoy (the last race in) Abu Dhabi."
Red Bull's Sebastian Vettel, the 22-year-old German who had needed to finish in the top two to have a chance of staying in contention for the title, took fourth place on a hot and humid afternoon at Interlagos.
Button, winner of six of the first seven races, now has 89 points to Vettel's 74 and Barrichello's 72.
"I think there is a guy at Brawn who is happier than me today," said Vettel. "At one point I was praying for rain, there was the smell of rain, but it didn't come."
THIRD PLACE
Poland's Robert Kubica was second for BMW-Sauber with McLaren's outgoing world champion Lewis Hamilton taking third place from 17th on the grid at the circuit where he clinched the title in a 2008 thriller.
It was the first time in 40 years that Britain had back-to-back champions. Bizarrely, it was also the second time in a row that an Englishman driving car 22, with a Mercedes engine, had finished fifth to win the title in Brazil.
The safety car was deployed for four laps after chaos on the opening one when Force India's Adrian Sutil, Toyota's Jarno Trulli and Renault's Fernando Alonso crashed out.
Trulli and Sutil, who had been third on the grid, almost came to blows on the runoff after they stepped out of their shattered cars.
Race stewards fined Trulli $10,000 for his actions.
McLaren were dealt a $50,000 fine for the unsafe release of Heikki Kovalainen from the pits. The car pulled out with the hose still attached, spraying fuel over Kimi Raikkonen's Ferrari.
The fuel then ignited, causing a flash fire. Raikkonen continued to finish sixth, ahead of Toro Rosso's Swiss rookie Sebastien Buemi and Barrichello.
In 17 years in Formula One, the Brazilian had started on pole three times in Brazil and has still never won at his home circuit.
"It was that Brazilian curse again, wasn't it," said team boss Ross Brawn. "I think he got nipped by Lewis as he went past and punctured the right rear. It's a shame because he drove exceptionally well this weekend."
Button, who had prayed for dry conditions after the deluge on Saturday, was by then on a charge and putting it all on the line, overtaking Renault's Romain Grosjean, Williams's Kazuki Nakajima and Toyota's Kamui Kobayashi.
Nakajima crashed spectacularly on lap 31 after touching Kobayashi's rear wheels.