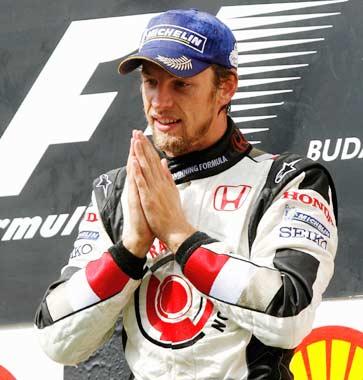 Jenson Button woke up with a smile on his face on Thursday ahead of what could be the happiest weekend of his Formula One career.
"I woke up very happy this morning, I had some pretty good dreams," the Brawn GP driver, on course to become Britain's 10th world champion in Brazil on Sunday, told a news conference at the Interlagos circuit.
"I woke up with a smile on my face.
"I'm looking forward to the weekend. I don't think it adds to the pressure knowing that you could win the world championship this weekend. It's not a negative, it's a positive."
Button is 14 points clear of team mate Rubens Barrichello with two races remaining and two more ahead of Red Bull's Sebastian Vettel.
The pressure is on them to beat the Englishman by a comfortable margin just to stay in the hunt while Button needs only a third place to be sure of the crown -- and maybe not even that depending on results.
Barrichello, who grew up within earshot of Interlagos, is desperate to win his home race for the first time since he entered the sport in 1993. He knows he has to win big to remain in the reckoning.
"It's something that I have been dreaming of for a long, long time," he said, sitting alongside his team mate with Vettel behind them.
"So hopefully the car will be back into the performance that we want... hopefully here I can just put everything out and go for the win -- because I need it and because I want it so badly."
SILVERSTONE REVENGE
Button, who won six of the first seven races of the season but was beaten by Barrichello in his home race at Silverstone in June, had his own agenda.
"Rubens beat me at Silverstone and I'd like to do the same to him here," he said with another smile. "It's a nice feeling when you get beaten by your own team mate in your home country," he added with tongue-in-cheek.
"But I think we understand the situation, we are all fighting for something that is far greater than we have achieved in the past and I think we will respect that."
Brawn need just one point to clinch the constructors' championship and Button and Barrichello said they are united in that aim.
The best of friends off the track and fierce rivals on it, the two drivers also underlined just how fragile that friendship really is -- a relationship likely to be stretched to breaking point if the title goes down to the wire in Abu Dhabi.
"If Rubens won the championship, I would absolutely hate him," said Button, with a nervous laugh.
"We come here for one thing only and that's to win the world championship. That's our aim in life since we were eight year old kids or even younger.
"That's what we are all here to do. We are working well together and I think we are good friends but you come here to win and we are very competitive people. If Rubens won, I'd be very disappointed," he added.
"But I'd also respect that he did a better job over the 17 races and respect the fact that he's worked as hard as I have or even harder in that case."