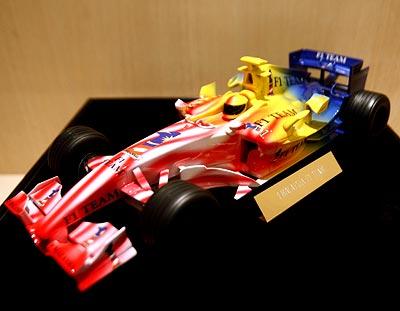 The new Malaysian-backed Lotus F1 team are ready to start wind tunnel tests on a scale model of their car only a month after they were handed a place on the 2010 starting grid.
"The start of any windtunnel testing is an important step in the development of a new Formula One car, but it is particularly exciting for us as we continue preparations for our first season," said chief technical officer Mike Gascoyne in a statement on Wednesday.
"We had been working on the entry for several months so we already had aspects of the team infrastructure in place; the finances, the factory and the top management.
"Once our entry was confirmed in mid-September, we were able to accelerate our recruitment and car development process and this is really where we are at now."
Gascoyne, who has worked at various Formula One teams including Renault and Toyota, said Lotus are aiming for a roll out of the new car in mid-February to test it before the season-opener in Bahrain in March.
The 2009 season finishes on November 1, with the penultimate race in Brazil this weekend.
"We need to remain realistic in our aims for the first year. We are a new team and we are starting our development late, so it will be an achievement just to get two cars on the Bahrain grid," said Gascoyne.
"I hope by the middle of the season we will have established ourselves as the best of the rookie teams and then continue to make forward progress for the rest of the year."
No decision had been made on the two drivers, with Malaysians among those being considered.
"We need reliable and technically-minded drivers who can help us develop the car during the season, but at the same time we need drivers who are hungry for results and who can extract every little bit of performance from the car at all times," said Gascoyne.
Italian Jarno Trulli, currently at Toyota, is considered a frontrunner in the paddock rumour-mill to join Lotus after his current team said that they are unlikely to renew the 35-year-old's contract for 2010.