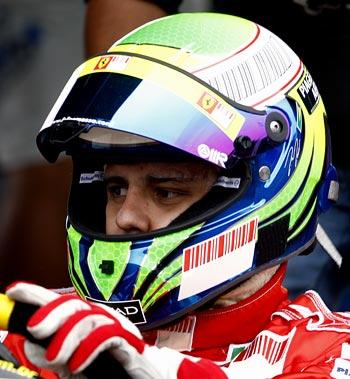 Felipe Massa is fit to get back in a Formula One car after two days of neurological tests in Paris had a positive outcome, his Ferrari team said in a statement on Saturday.
Tests on Friday showed the Brazilian's vision had recovered fully after he fractured his skull at July's Hungarian Grand Prix.
Massa will test a 2007 Ferrari at the team's Fiorano track on Monday but is not expected to race until the start of next season.
He flew to Paris on Friday for neurological and ophthalmological tests conducted by the governing International Automobile Federation (FIA) at the Pitie Salpetriere hospital that will continue on Saturday.
"The first outcomes are positive: especially the ophthalmological exam confirmed that Felipe, who arrived with his personal doctor Dino Altmann, has recovered the functions of his left eye by 100 percent," Ferrari said on their website.
The Brazilian was hit on the head, just over his left eye, by a metal spring that fell off compatriot Rubens Barrichello's Brawn and bounced down the track in qualifying at the Hungaroring.
Massa will fly to Brazil after his test in a 2007 Ferrari at Fiorano and will wave the chequered flag at his home Grand Prix at Interlagos on October 18.
The Brazilian won at the Sao Paulo circuit last year before losing out on the title by a single point to McLaren's Lewis Hamilton.
This year's race, the penultimate of the season, could decide the title with Britain's Jenson Button leading Massa's friend Barrichello by 14 points.
The season ender is in Abu Dhabi on November 1, but Massa said he is unlikely to be fit to compete in it.