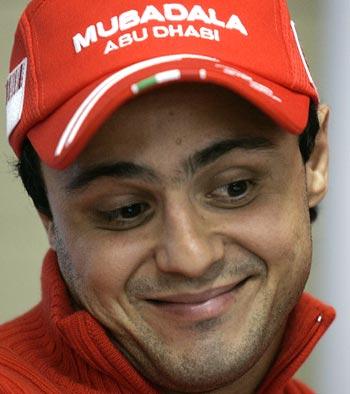 Recovering Brazilian Felipe Massa said his dream of racing for Ferrari in the season-ending F1 Grand Prix in Abu Dhabi next month is unlikely to come true.
"My hope is to come back soon, although I know the ideal thing is to return 100 percent at the start of next season," he told the Italian team's website on Thursday.
"My dream would be to be at Abu Dhabi, but the chances of this happening are very, very small," he added referring to the November 15 race.
Massa is recovering from a life-threatening head injury he suffered in July when he was hit by bouncing debris in Hungarian Grand Prix qualifying.
He is due to get back behind the wheel of a Formula One car for the first time since the accident next week for tests in the 2007 Ferrari.
Massa will also wave the chequered flag at next week's potentially title-deciding Brazilian Formula One Grand Prix, organisers said earlier on Thursday.
Massa, whose friend and compatriot Rubens Barrichello is fighting Britain's Jenson Button for the title, will follow other celebrities like Pele and supermodel Gisele Bundchen in waving the flag. He won his home race last year.