The Force India Formula One team named Germany's Adrian Sutil and Italian Vitantonio Liuzzi on Friday in a 2010 line-up unchanged from the one that finished the season.
"We are very pleased to retain the services of both Adrian and Tonio for another season," said team owner Vijay Mallya in a statement.
"We have always maintained that consistency is key at this stage in the team's development and for the first time in many years we will have the continuity of not only the same drivers, but also the same engine and senior management.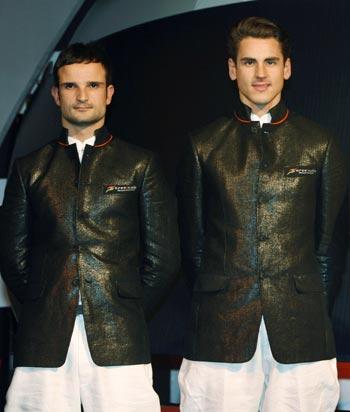 "With this stability now in place I truly believe we have an excellent platform to build on and move forward on our strong 2009 performance," added Mallya.
"I am sure we have one of the most dynamic line-ups on the grid and I hope this will stand us in good stead in what we all hope will be a transitional year for the team."
Mercedes-powered Force India ended the season in November ninth of the 10 teams after scoring their first points in Formula One.
Italian Giancarlo Fisichella finished second in Belgium in August, after starting on pole position, and then moved to Ferrari as a stand-in for the final five races. Liuzzi, the reserve driver, replaced him.
"I feel good here, it feels like family, and when you feel at ease you can focus your energy 100 percent on getting it right on track," said Sutil, 26.
"Next season I want to be in the points on a regular basis, maybe even challenging for the podium, and the team has exactly the same goals," he added.
"We are going massively in the right direction, so with our combined energies I'm confident we can achieve even more than last season."
Liuzzi, who raced for Red Bull and Toro Rosso between 2005 and 2007, was relieved to be back full time on the starting grid.
"I feel the five races I did in 2009 were a bit of a warm-up," he said. "Now I've done that I feel ready to really push next season."
Force India said their reserve would be decided after young driver tests in Spain next week. Britain's Paul di Resta, 23-year-old cousin of IndyCar champion Dario Franchitti, and American J.R. Hildebrand, 21, are in the frame for the job.