Former Renault team boss Flavio Briatore asked a French court to overturn his life ban from Formula One on Tuesday, saying he had been denied his right to a free and fair defence.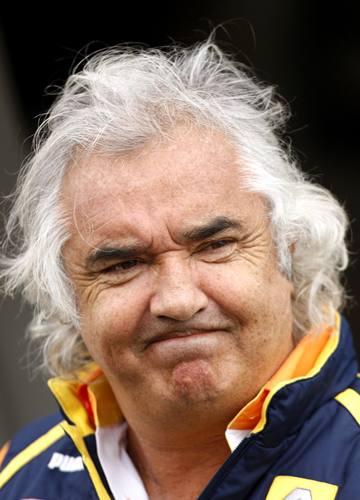 The court said it expected to reach a verdict on January 5.
The Italian, who had been a flamboyant figure in the Formula One paddock, also asked for one million euros ($1.50 million) in compensation from the Paris-based International Automobile Federation (FIA) for moral prejudice.
"My client only aims to be able to do what he wants and to recover his freedom... He is calm and determined," Briatore's lawyer Philippe Ouakrat said before the hearing.
Briatore was handed a life ban by the FIA in September for his role in a race-fixing scandal at last year's Singapore Grand Prix.
Brazilian driver Nelson Piquet Jr, who was dropped by Renault in August, told the FIA he had been told to crash deliberately in that race. He said he had done so to bring out the safety car and help his Spanish team-mate Fernando Alonso win the race.
Former champions Renault were handed a suspended permanent ban.
According to his lawyer, Briatore believes the FIA was not entitled to hand out indefinite sanctions and that his ban was not imposed by an impartial judge because of his strained relationship with then FIA president Max Mosley.
The Italian also says the whole procedure was flawed as it was partly based on an anonymous witness, who was not named.
Renault F1 team's former engineering head Pat Symonds also asked the French court to overturn his five-year ban.
FIA's lawyers told the court Briatore deserved his ban as he had "undermined the sport's ethic and the credibility of the competition and (had) put other people's security at risk".
According to the sporting code, the FIA can hand out any sanction it wants in such a case, they added.
The FIA did not have to apply the rules for a fair trial as it was an internal procedure and not a judicial one, FIA's lawyers said.
The Paris court ruling will be closely watched outside Formula One, with Briatore a co-owner of English Championship (second division) soccer club Queens Park Rangers.
If the ban is upheld, the Italian could be forced out of the club under the league's fit-and-proper persons rule.