Brazil coach Dunga described England as a bunch of dribbling fools after his side swamped the Three Lions 1-0 in a friendly in Doha on Saturday.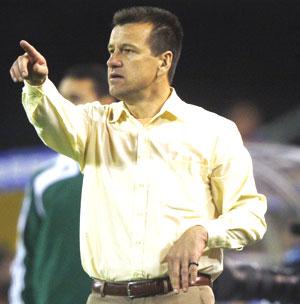 The Sun quoted Dunga, as saying: "England must learn how to dribble through us, that's what you have to do. I think it is about the technical quality and also the physical condition."
"I always say to my players that their time in the national team seems long but it is, in fact, very short. You must enjoy your time, enjoy the moment. England just had 11 men behind the ball," he added.
Dunga, whose team are 9-2 joint favourites with Spain to win next year's World Cup, also explained why he insisted on calling up Manchester City's injured star Robinho, sparking a club vs country row.
The Brazilian coach said: "I didn't declare war on any European club. People have said Brazil need to be more organized - so that's exactly what we have done."
However, England skipper John Terry continues to insist that the English side have no reason to fear Brazil in the run-up to next year's World Cup in South Africa.
Terry said: "I don't think Brazil are anything to really worry about. They are a very good side, I am not saying they are not.
"But we have to look at our own strengths and qualities and I think we can mix it with the best sides in the world. Listen, they've got their weaknesses, like we have.
"There's no doubt Brazil have got individual quality, in one-versus-ones situations, that can frighten any team. That is why they are ranked the best side in the world at the moment.
"We've done well in recent years and the likes of Joe Cole and Wayne Rooney can change a game just like they can.
"We are giving them a lot of credit for the win over us but the game had a friendly written all over it from the start."