Germany's Sebastian Vettel won Formula One's season-ending Abu Dhabi Grand Prix, the first race to start in daylight and end at night, in a Red Bull one-two finish on Sunday.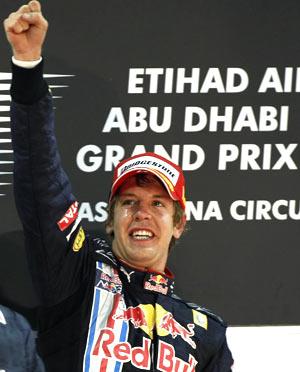 The 22-year-old German beat Australian Mark Webber by a comfortable 17.8 seconds under the floodlights for his fourth win of the season to make sure of second place overall in the championship.
Britain's Jenson Button, who clinched the title in the previous Brazilian Grand Prix for his championship-winning Brawn GP team, rounded out his season with third place after hunting down Webber and chasing him nose-to-tail in the closing laps.
Hamilton ends season with race retirement
McLaren's outgoing world champion Lewis Hamilton was forced to retire for safety reasons from Sunday's season-ending Abu Dhabi Grand Prix after the Briton had led from pole position.
Hamilton was told of a brake problem after his first scheduled pitstop and then instructed by the team to return to the garages after 20 of the 55 laps.
A McLaren spokesman said they had detected unusual brake pad wear on the right rear and stopped the 24-year-old for safety reasons.
"There was a problem with the brakes, I couldn't stop the car," Hamilton told the BBC. "I was locking and locking and locking and it was harder than ever to drive the car.
"It's a shame as the car felt so good these last couple of days, but we haven't had many brake problems this year so there you go."
Sunday's retirement was only Hamilton's second of the season and the first due to mechanical reasons. The other was a crash in Belgium.
The Briton had said of his Mercedes-powered car after dominating Saturday's qualifying that it was "probably the best it has been all year."