Felipe Massa will drive a Ferrari Formula One car again this year as the Brazilian continues his recovery from life-threatening head injuries suffered in July, Ferrari said on Sunday.
The Italian team said on their website (www.ferrari.com) that Massa would drive one of their 2007 cars, with demonstration tyres, at the Mugello circuit some time in the next few days.
"I wanted to jump into a Formula One car before the end of the year, so I made the most of being in Maranello to do it," said the Brazilian, who was at the team's factory for Ferrari's Christmas party.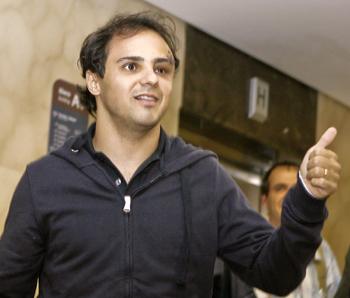 Massa, who also drove the 2007 car in October to test his recovery, joined the team's test drivers Luca Badoer and Marc Gene in dressing up as Father Christmas for the Ferrari employees and their families.
The Brazilian attended Ferrari's Christmas lunch on Saturday and heard the team president Luca di Montezemolo hold him up as an example for a team that won just one race in 2009 and lost the constructors' title.
"This has been a very bad year, not up to Ferrari's usual standard," said Montezemolo.
"None of us is happy with the ways things went -- we were hardly ever competitive enough to fight for the win and that is not our style.
"However, every one of us has the will and the ability to react and get back, not just to being very competitive, but also to winning," he added.
"The symbol of our desire to fight back is really Felipe, who knew how to deal with a very difficult and dramatic situation and all of us can take that as our example next year."
Massa, overall runner-up in 2008, will partner Spain's double world champion Fernando Alonso at Ferrari next year.